ABOUT the Bureau
Get to Know the Fayetteville Area Convention & Visitors Bureau (FACVB).
Mission
To position Cumberland County as a destination for conventions, tournaments, and individual travel.
Vision
The FACVB strives to be the leading destination authority by supporting and marketing the Cumberland County branded visitor experience and advocating community tourism benefits.
Staff Vision
To be the voice for and to the visitor. We will strive to have a working environment that fosters individual and organizational growth in an open, honest, and challenging atmosphere. Lastly, we will adhere to the following values and guiding principles:
Collaborative
Customer-Centric
Community-Engaged
Professional
Ethical
Committed to spreading our All-American story
The Brand Promise
Cumberland County rekindles and reawakens the American spirit in every corner of the community.
The Brand Personality - Patriotic.
We are a full-service convention and visitors bureau. The Bureau is a private, not-for-profit organization funded by a sales occupancy tax. We assist leisure travelers, meeting planners, group tour operators, media and military reunion planners. Our staff serves as a liaison between visitors and our local hospitality industry.
We operate two Visitor Information Centers. Both are minutes from I-95. For more information call 888-98-HEROES (984-3763).
Main Office
245 Person Street
Fayetteville, NC 28301
(800) 255-8217
(910) 483-5311
(910) 484-6632 (Fax)
Monday - Friday 8 a.m - 5 p.m.
Fayetteville History Museum
325 Franklin Street
Fayetteville, NC 28301
(910) 323-9739
Tuesday - Saturday 10 a.m. - 4 p.m.
Core Values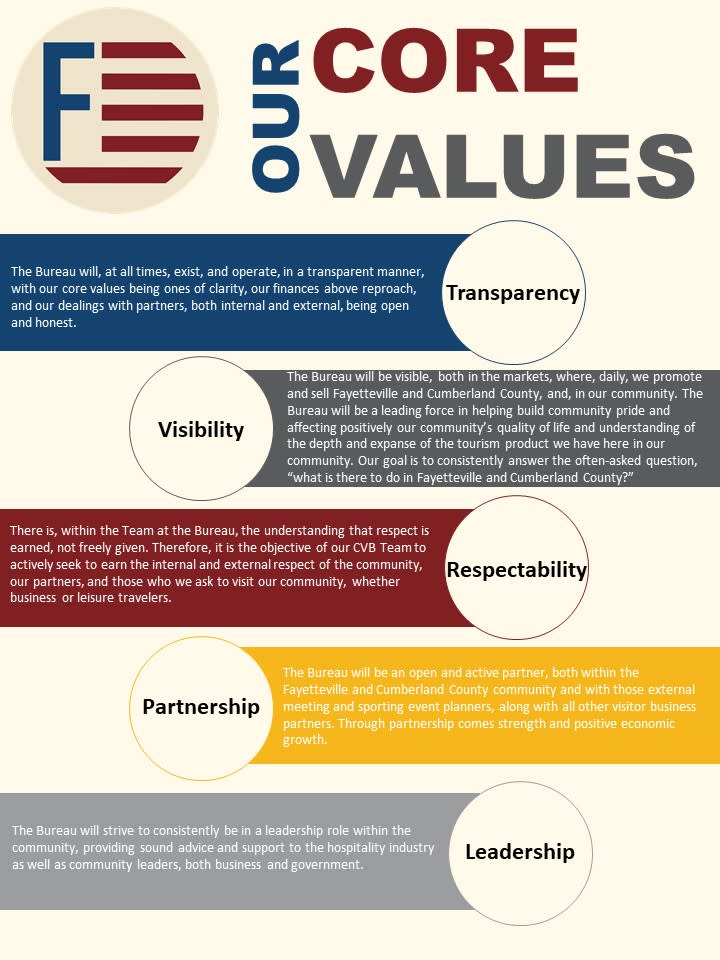 DMAI Accreditation. Reaccredited October 2020.
The FACVB is accredited by the Destination Marketing Accreditation Program (DMAP) of the Destination Marketing Association International.
This accreditation indicates that the FACVB has satisfied the rigorous standards set forth by the professional destination marketing community.
Each year more than 50,000 visitor guides are distributed to guests and newcomers to the Fayetteville area. The Bureau must be doing a good job: last year visitors gave a score of 4.80 out of a possible 5.00 for visitor satisfaction.
"Tourism has grown into one of the state's largest industries. Annually, over 45 million people visit North Carolina and generate more than $15.6 billion. Tourism directly employs over 182,900 North Carolinians with a payroll of almost $3.98 billion." -- www.nccommerce.com  
Join Our Email List
Sign up for our emails to get the latest news, personalized trip ideas, and special offers that fit your interests!