GENERAL | GROUP TOURS | MEDIA | MEETING PLANNERS | REUNIONS | SPORTS TOURNAMENTS 
 
GENERAL TESTIMONIALS
Dear Mr. Meroski: 
Our firm has been pleased to provide audit services to the Fayetteville Area Convention and Visitors Bureau for the fiscal years ended June 30, 2003 to June 30, 2016. Those services included rendering an opinion as to whether the financial statements are present fairly, in all material respects, in accordance with accounting principles generally accepted in the United States of America. Our opinions for all years listed above were unmodified or "clean" opinions.
April Adams,
Partner Cherry Bekaert LLP 
Submitted: December 2, 2016
Source: Letter
---
Angie,
It was truly my honor to have been a small part of this amazing event.  I want to thank everyone that had the idea to make this a community event.  It is all about our county and not one specific area.  We all have so much to share.
I look forward to many more events like HHIV.  After everything is compiled, I think we should have an 11:30 lunch meeting to view all of the videos and pictures!!!!  Hint Hint  You all know how to have a meeting!!
I hope you get some rest and enjoy the holidays.  Happy Thanksgiving and Merry Christmas!
Cheryl C. Hudson
Mayor Pro Tem, Eastover Town Council
Submitted: November 9, 2016
Source: Email
---
I recently visited the Fayetteville Area Convention and Visitors Bureau in search of items and information to stuff our family reunion registration bags with. I was lead to your establishment by Mr. Wilbur Bell of Your Tours Unlimited, Inc. 
Upon my arrival, I was graciously and warmly greeted by Ms. Betty Davis, who made me feel very welcome and at ease in your place of business. Not only did Ms. Davis make sure that I felt welcome, but took the time to listen to what activities I had planned for my family reunion and offered me all the information and items that would be just right to stuff my bags with. She also informed me that I could have secured the hotel, etc. through the Bureau at no cost to me, of which I wasn't aware of.
But, more importantly than all that I have mention, I just wanted you to know that Ms. Betty Davis has the most pleasing personality, so very energetic and enthusiastic going about her daily tasks at the Fayetteville Area Convention Bureau. I know without a doubt she is a huge asset to your Convention Bureau.
It was a pleasure to have met Ms. Betty Davis.
Sincerely,
Diatha I. Harris
Ivey/Ivery Family Reunion
Submitted: July 6, 2016
Source: Letter
---
I apologize for taking so long to reply. Our organization is interested in Fayetteville as the location for our 128th annual convention, which will be held in the April, May 2018 time frame. We held our 125th, 2015, Convention this past May in Pittsburgh, PA. Our 2016 Convention will be held in Fresno, CA and the 2017 in Newport News, RI. We will formally decide on Fayetteville as our 2018 site at our Board of Directors meeting in April 2016. Once that happens, we will become increasingly involved in the planning and coordination efforts necessary to insure a successful convention. I appreciate your interest in our organization and look forward to having you assist us. Please pass along my appreciation to the ladies at the Visitors/Convention Center for their assistance.
Sincerely, Jerry Walden, DSC
Submitted: June 22, 2015
Source: Email
---
"What an amazing Visitors Bureau - The Fresh Market is receiving the warmest welcome to Fayetteville!  Thank you Denise, Angie and John for all of the information about the area!"
Sue Parker
Submitted:  March 20, 2015
Source:  Facebook
---
Mr. Jones:

Great to meet you this morning at the AUSA breakfast. Thank you for your past dedicated and sacrificial service to our country, military, and freedom's cause and for your continued service to our military team and mission. I visited the Fayetteville Area Convention and Visitors Bureau my first week in town last summer and was very impressed with the facilities and the staff. I received so much helpful information. I even took my parents when they visited town a few months later. I pray the Lord's continued blessings upon you and your team as you serve the great people and visitors of Fayetteville and the surrounding communities.  

Chaplain Philio

Chaplain (MAJ) Shannon K. Philio
Brigade Chaplain
82nd Sustainment Brigade
Fort Bragg, NC
Submitted:  March 17, 2015
Source:  Email
---
To Sarah Chapman, the FACVB's newest employee.
Congratulations on your recent hiring.  I truly hope that you keep up the good work in Cumberland County. It is always encouraging to see a career moving in a positive direction in North Carolina.

Sincerely, Senator Wesley A. Meredith
Submitted: August 4, 2014
Source:  Card in the Mail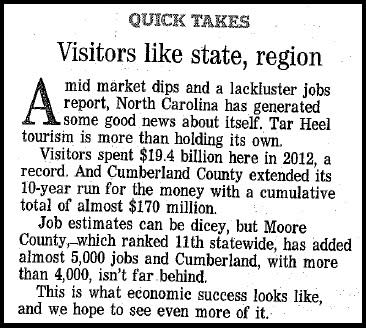 Submitted:  August 20, 2013  
Source:  Fayetteville Observer Newspaper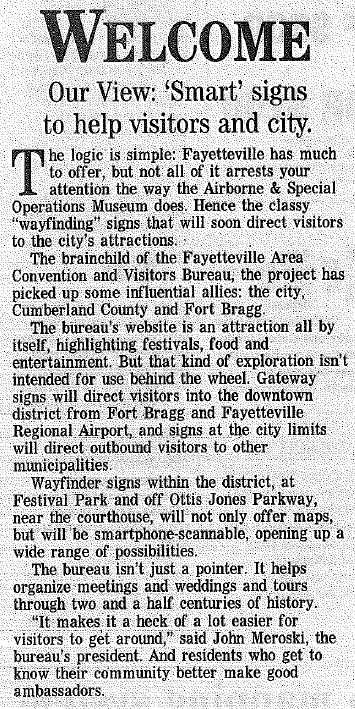 Submitted: June 21, 2013 
Source: Fayetteville Observer Newspaper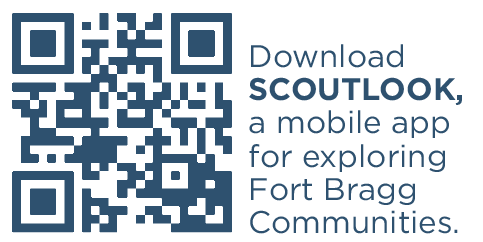 Average User Rating: ★★★★★
User Reviews:
"This app has been awesome to have since my family moved to Ft. Bragg. It's helped me not just find my way around town, but the base too. I love the fact that it's connected to MWR. Plus I've used it a couple of times to find recommendations for family-friendly restaurants, all of which were good! I hope more people start using it so we can all share reviews and comments with each other!"
"Whew! This app has made my life a lot easier, and lot more fun since moving to Fayetteville. I can see all the events going on around town, see stuff around me like restaurants, bars, things to do. Makes exploring a new town an adventure, not a chore. Way to go!"
"This is a great app. I haven't seen anything else quite like it. It's super helpful for anyone exploring the Fayetteville/Fort Bragg area and I hope military communities across the country take note."
"The patriotism in Fayetteville frames an undying faith in democracy that transcends partisan politics." Lester Holt
Source: NBC Nightly News, "Across America"

I hope today is a fitting day to write to you (Memorial Day 2014) and "thank you" for your support this past week. I was in awe meeting the other POWs and listening to their comments. Their comments were enlightening and really should be heard.

Again, many thanks.
All the best,
Jan

Submitted:  May 26, 2014
Source:  email
---
In response to a recent E-promo that the FACVB sent out, we received the following correspondence:
Very Nicely done, congratulations!
Robert W. Greene, Jr.
MARCCOM
Director, Marketing & Corporate Communications
Submitted:  April 25, 2014
Source:  Email
---
I would like to thank the lovely ladies at the Visitor Center for their assistance and kindness - our car broke down on Monday, March 24th and had to be towed. We will always remember how welcoming and helpful they were.
For all you do...Thank you
Joyce
Toronto, Ontario, Canada
Submitted:  April 3, 2014
Source:  Thank you card
---
Good Evening Ms. Comulada,
I wanted to thank you and your staff for taking time out of your busy schedule today to meet with me and my Civil Affairs AIT students. Everyone was extremely helpful and professional, your participation provided a valuable opportunity for these students, and the information gained today will better prepare them for their Civil Affairs careers in the future.
Also, thank you for the "What's Happening In Fayetteville/Cumberland County". I appreciate your time and look forward to speaking with you again.
Thank you.
Very Respectfully,
SSG Daniel M. Mcadoo
Civil Affairs Instructor
Aco Co/ 3rd BN/ 1st SWTG (A)
Submitted: February 10, 2014   
Source:  Email
---
Email sent to Sarah Chapman, FACVB Event Marketer
Good morning Sarah,
This is to let you know that we're appreciative of the partnership and that our customers appreciate the event updates.
Thank you,
Sabina M. E. Bryant
Chief, Outdoor Recreation
DFMWR, Recreation Division
Fort Bragg, NC 28310
Submitted: January 17, 2014 
Source: Email
---
I would like to say that we sincerely appreciate for your love and care for our organization. I also heard from Ms. Deanne Renshaw that you advertised our concert and sent information out to a lot of places for us last semester. 
Our organization has started to provide even more opportunities for those interested in playing for a full symphonic orchestra with a quality music education. Supporter like you became our huge support and upgraded organization's value. 
We all appreciate for your love again! Thank you!
Hamin Kim 김하민
Manager, Fayetteville International Youth Symphony
Submitted: July 25, 2013  
Source: Email
---
Ma'am,
Just wanted to thank you for assistance with getting those materials last week for me to take up to UNC Chapel Hill. They were well received by the professor and the students, hopefully a few of them will swing down here to visit or at least stop in on their way to Spring Break.
Thanks again, hope you have a great week.
Michael
COL Michael L. Bineham
USAWC Fellow - UNC Chapel Hill
Submitted: December 4, 2012 
Source: Email
---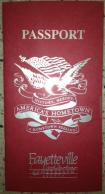 We had 2 of our grandsons this weekend and we discovered your "Passport." What a great idea. It is valuable, not only in engaging children, but it is wonderful planning tool.
Thanks,
Jim
Date: August 14, 2012 
Source: Email
---
Saw the flashmob ("America the Beautiful") for the soldier. I'm sure that's not a daily (or even monthly) occurrence, but it showed that the group actually does something, not just 'raise funds' as many of the organizations do.  I know the dollars are important, but like the human touch & creativity.
Francie J. Shor
Retired Special Education teacher
Submitted: November 29, 2012 
Source: Email
---
Thank you for the visit today. We always love to see you! The bagels and spread were delicious. What a treat for us !!
We had a lot of fun going through all the goody bags. That was so thoughtful of every one to send us something. Thank you for the information about the Fayetteville events and new hotels. We really do appreciate everyone there thinking about us.
Hope you have a great week,
Frieda Day
I-95 North NC Welcome Center Manager
NC Division of Tourism, Film and Sports Development
Date: August 28, 2012  
Source: Email
---
Thank you both for our morning full of delicious bagels, wonderful conversation, restocking of our brochures, and the brightness you girls add to the room…we appreciate you….
Kat Littleturtle
I-95 South NC Welcome Center Manager
NC Division of Tourism, Film and Sports Development
Date: August 24, 2012 
Source: Email
---
Thank you both for our morning full of delicious bagels, wonderful conversation, restocking of our brochures, and the brightness you girls add to the room…we appreciate you….
Kat Littleturtle
I-95 South NC Welcome Center Manager
NC Division of Tourism, Film and Sports Development
Date: August 24, 2012 
Source: Email
---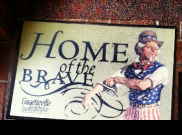 I kind of love this #homeofthebrave #Fayetteville #nc @ Fayetteville Area Convention and Visitors Bureau
Ellen Kreutzfeld
Date: August 12, 2012 
Source: Twitter
---
Thank you again for coming out to West Regional Library and presenting such excellent information on how to find all the fantastic stuff going on all around us.  Your knowledge of the events, the places, and the contact people in the area - including Fort Bragg - was exceptional!
I used the mini-disk you gave me to go to your new website.  The new site is softer to the eye than the old red was and the site itself is much easier to navigate.  Kudos to those who redesigned it. 
I'm looking forward to getting a passport and exploring some of our city's sites with my grandson.  I really appreciate your time and expertise! I hope to be able to call on FACVB again in the future.
Billie Norman
Librarian I
Information Services
West Regional Library/Cumberland County Library System
Date: August 2, 2012 
Source: Email
---
Congratulations Angie! For being a member of the "Forty for the Future". You have done a wonderful job with the travel and tourism industry. I know the Fayetteville CVB is proud to have you on their team. We are very proud to have you on our team and I-95 corridor.
Love ya!
Frieda Day
I-95 North NC Welcome Center Manager
NC Division of Tourism, Film and Sports Development
Date: July 9, 2012 
Source: Email
---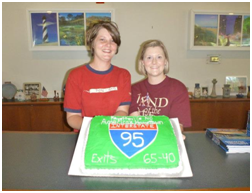 Thank you and everyone from your area for participating in our National Tourism Day last week at the I-95 North Welcome Center. This was a great opportunity to promote your area/property and thank the tourist for their support during their travels.
Thank you for the special cake you made for us. It was so appropriate for the day! We all enjoyed it very much.
Thank you for being a part of our special day and we look forward to working with you in the coming year. With your help, we feel that our day was a great success.
Frieda, Margeret, Taylor, Greg, Vickie, Linda and Waymon
I-95 North NC Welcome Center Manager
NC Division of Tourism,
Film and Sports Development
Submitted: May 14, 2012 
Source: Email
---
Thank you so much for the visit. We always enjoy seeing you ladies. As you can tell, there is always something going on here. Thanks for the bagels and cream cheese. They are absolutely delicious! We will have breakfast tomorrow also and think of you.
We appreciate you bringing the brochures, visitor guides and the goody bags. They are fun things to "dive into" and find all the goodies.
We look forward to seeing you again in May. Thanks again for the visit today and everything you do for us.
See you soon,
Frieda Day
I-95 North NC Welcome Center Manager
NC Division of Tourism, Film and Sports Development
Submitted February 28, 2012 
Source: Email
---
Thanks for all you do to promote our community. Your organization constantly reminds us of all the great things there are do to do in Fayetteville!
Gill Security Systems, Inc.
Submitted: February 10, 2012 
Source: Facebook
---
As a service-member's wife, I was truly touched viewing this video; it brought tears to my eyes to see the gratitude paid to this service member. Thank you, I don't know who came up with the idea but thank you.
- YouTube.com User: groovymack
With many of my family members overseas, I was so touched by this. When everyone started singing, it truly gave me goose bumps. So beautiful and...wow. Thank you to whoever's idea this was.
- Youtube.com User: SaraBaraSings
Source: YouTube.com - "Singing Flash Mob Overwhelms Soldier"
---
WOW---Very cool website---Thank you...We'll be visiting soon!
Jan Weingard
Submitted December 14, 2011 
Source: CustomizeIt!
---
Thank you so much for the delightful visit. We really enjoyed the special lunch you brought. It is such a treat for us to have something brought in. I'm getting ready for a coke and my cookie! Thank you for all the goodies and brochures for m the hotels.
Hope you and your families have a wonderful Christmas and we will see you next year.
Thank you again for all you do for us.
Frieda Day
I-95 North NC Welcome Center Manager
Submitted November 29, 2011 
Source: Email
---
Cheers to the Fayetteville Area Convention and Visitors Bureau and Army's Army for putting on Heroes Homecoming. It has been amazing for Fayetteville and Cumberland County.
Jesica Peck, Fayetteville
Submitted November 11, 2011 
Source: Fayetteville Observer Cheers and Jeers Section
---
Thank you and your staff. You were very kind to me and my wife. I will refer my staff to the Visitors Center and recommend they visit Fayetteville. Beulah and Betty were wonderful.
Dr. Marshal
UNC Chapel Hill
Submitted November 10, 2011 
Source: Walk-in at FACVB
---
Dear Anna (FACVB Employee)
It was June 9, 2011 when I came to the Fayetteville Area Convention and Visitors Bureau looking for help to find Holy Trinity Church. We attended a service. You were more than helpful and kind. Thank You! We easily found the church. And, you gave us many booklets and historical information for our grandchildren. They were delighted and had a lot of new information. Thank you again!
You can be proud of your office, it's wide range of area information and it's helpfulness for "lost" tourists. Our thanks for the staff who provide a warm welcome with the Bureau and so much news of the area. We look forward to a return trip. There is so much to see.With all thanks,
Pauline
Submitted July 28, 2011 
Source: Letter received in the mail
---
Hello, Thank you so much for publishing this list! I had a Soldier tell me he rec'd a 10% Military Discount from Autozone for purchasing a Battery. Not sure if they can be added.
Thanks!
Megan Forslund
Submitted March 10, 2010 
Source: VisitFayettevilleNC.com
---
Hi! I saw your ad in the April 2010 Our State Magazine (the ad: For over 200 years, we've graciously welcomed every single visitor to our fair city. Except two). Great Ad! I really love it - history and humor together. Next time I'm in the area, I will be sure to stop in Fayetteville to see what you have to offer (normally, I just drive past on I-95). Thanks for creating a travel ad that is a little out of the ordinary.
Diana Knight
Submitted April 17, 2010 
Source: VisitFayettevilleNC.com
---
Thank you for this information. We appreciate your beautiful city!
Brad Mazon
Owner Niagra Popcorn

Submitted: February 16, 2010 
Source: Response to e-newsletter
---
Would it be possible to purchase the poster of Uncle Sam rolling up his sleeves that you use on your website and on the ad you have on the American Legion website! That is a tremendous artwork of Americana that exudes pride in this veteran's heart!
Phil Lowe

Submitted: November 20, 2009 
Source: VisitFayettevilleNC.com
---
I can't believe I received that CD today! What a wonderful service. We are looking forward to many visits and this will be so helpful.

J. Davis

Submitted: March 25, 2009 
Source: CustomizeIt!
---
I saw your most recent ad in the newest Our State magazine----the one with "We've welcomed everyone--except two--Cornwallis and Sherman." As a long time teacher and lifelong North Carolinian who grew up in Rural Moore County, let me say I have never seen an ad as eye catching, serious, and yet humorous at the same time. I loved it--it is very effective. My question is: Do you have any posters of that ad I could get? I have several locations where they would be perfect. Additionally, do you plan to make that advertisement of Fayetteville into a t-shirt? ....a nice burgundy or navy one would be perfect with the gold lettering.

Again, great advertising and lovely city. I still travel there four or five times a year to shop.

Marshall M. Stewart
Submitted: February 23, 2009 
Source: VisitFayettevilleNC.com
GROUP TOUR TESTIMONIALS
Thank you! The city tour was just what we needed to help us plan for our Holidays Concourse. It was great and the lunch was so enjoyable. Thanks for all you did.  We will be in touch with you soon to seek your help in planning our tour for our guests.
Again thanks,
Sophie & the Ladies of the Fayetteville Holidays
Submitted: January 19, 2016
Source: Card
---
Shannon, thank you so very much for your help. The meal at Chris's was great and they loved the meal at the Hilltop – they said it was one of the highlights of the trip.
Jackie Rhodes,
Fullington Bus Company
I think everything worked out great…Thank you for all your help with this tour & for taking your time to be with my group on Saturday, May 26th. I really appreciate all that you've done. - Perkiomen Tours

Shannon, Thanks for the pictures and everything you did for us. Hope we get to meet again when I bring our Capitol Tours Travel Club your way. You're one of a kind.
Glenda Tate,
Capitol Tours
---
Hi Shannon, The tour itinerary looks really great! Thank you so much for putting this together for me.
Lori Frank,
Perkiomen Tours

MEETING PLANNER TESTIMONIALS
It was a pleasure being served by the FACVB Team.
Audrie Sifuentes
Daughters of Christ Ministry, Inc.
---
FACVB did an excellent job. We are grateful they were apart of our event.
Marva Lucas
Hoops and Dreams Showcase.
---
Dear Myron,
I hope you are well. I am in Yangon, Myanmar – returning home on Wednesday, 23 November.  Indeed, it was a pleasure to talk with you at RCMA (Columbia)—as it is always a delight to see you.  The Fayetteville Area Convention and Visitors Bureau, has a wonderful Director of Sales in you, as you always provide such great insight into what is happening in the Fayetteville area.  Looking forward to seeing you a next meeting.
If the ministry finds that we will be in the Fayetteville area, I will be in contact with you.
Peace!
Kind regards, karen
Karen woods
Billy Graham Evangelistic Association
Team Office
Submitted: November 2016
Source: Email
---
So much can be said for Myron - he's a joyful presence and he can always be counted on to get a job done. While he's stepped down from the Board, he continues to be involved and contributing to our Chapter. He is always willing to lend support where needed - be it acting as photographer at each of our meetings or contributing "something Fayetteville" to our silent auction or raffles. His devotion and dedication to our Chapter is inspiring and much appreciated! 
Society of Government Meeting Professionals
Submitted: May-June 2016
Source: SGMP Newsletter
---
Hi Myron,
It was fantastic. How rewarding it is to have a collective vision and be a part of it becoming reality! We have received countless kudos regarding the weekend. I hope you saw the article in The Observer on Sunday.  We were all pleasantly surprised to have the Fayetteville Alumnae Chapter receive front page coverage.
Please accept my personal thanks for the guidance, resources, connections and time you have given us from the initial days of planning right up to the event itself. You are so effective at what you do.  You have, in fact, been an integral part of the team. Thank you so much.
You'll Be Hearing From Us,
Rene' Quarters
Delta Sigma Theta Sorority, Inc.
Submitted: February 3, 2015
Source: Email
---
Hello Mr. Jones,
I wanted to give you feedback on a bus company recommended by your office.
In support of the MARS Task Force Mountain Artillery Association's 2012 Reunion, held in Fayetteville from 13 to 16 September, we retained the services of Your Tours Unlimited. Mr. Bell provided very good service, arriving on time both days with clean buses and professional, pleasant drivers.
In addition to Your Tours Unlimited, Mr. Bell subcontracted Danco Passenger Transport Service LLC on the first day. Mr. Darryl M. Daniel, the owner/operator was excellent to deal with, providing a very clean bus and very pleasant service. I would recommend that you add Mr. Daniel and his bus company to your list of bus companies that you provide to people and organizations who make inquiries with your office.
I appreciate the support and service that your office provided to our reunion. The whole weekend was a success beyond our expectations. Our Vets felt welcomed and appreciated by everyone they met in Fayetteville and Ft. Bragg. I would feel comfortable recommending your office to anyone planning an event in Fayetteville.
Thank you
Steve Osinski
---
Myron,
We had a very good visit to Fayetteville on Thursday, 22 Dec 11. Both ladies that met with us were extremely helpful, friendly and most beneficial. I thank you for having them to meet and assist us with our event. They can assist me at anytime as they were very professional, made excellent suggestions and they certainly looked better than what I remember you do (smile). But seriously, I thank you and your office for all your assistance. Also, we want to recognize WWII Veterans at our event and I solicit your assistance with identifying some of these veterans in the Fayetteville area. Thanks and I will be in further contact.
LTC Richard D Kingsberry
Submitted: January 4, 2012 
Source: Email
---
Thank you so much for your recommendation of our facility. We just booked the Buffalo Soldiers and the Police Department! One client mentioned your "push" for them to give us another chance. I really appreciate your renewed confidence in our facility. I know we are working hard for a brighter future. Thank you for recognizing our efforts and being a part of our new team and vision.
Jamie Housley
Submitted: January 3, 2012 
Source: Card in the mail
---
Everything went great and Myron at the CVB was quite helpful. The Holiday Inn turned out to be a super place for our reunion. Their staff was always there to help in any way they could. I highly recommend them for military reunions.
Will Bell of Your Tours went beyond what most bus companies would do. He knew that we were still in town and I enjoyed Thanksgiving dinner at their home.
As we never repeat a city, we won't be bringing our reunion to Fayetteville again; I'm a founding member of the Alliance of Military Reunions (a planners group) and I will recommend it to the membership.
Mary & Walt Steesy
Sampson AFB Vets
 
Fayetteville is a great city, the hotel, stores and restaurants provided great people personalities. The beauty, cleanliness, and pleasantness of the people. - Dorothy West, Universal Supreme Council

On behalf of the Navy Seabee Veterans of North Carolina, I would like to thank you and the Convention Bureau for all that was done for the Navy Seabees during our convention in Fayetteville. Your assistance to us was extremely helpful in the planning of our successful convention.
Our Seabees were especially proud of the Seabee Coin that was donated by the Convention Bureau. Each person attending the convention was given a "coin". Needless to say, the Seabees from across the United States were impressed by the quality of the coin. So we thank you for making us proud!
We consider our Navy Seabees to be the back bone of the Navy. They are the construction groups that go in and build runways, roads and schools etc. The Seabees are stationed around the world serving in humanitarian missions drilling water wells in Africa as well as building hospitals and schools in other areas. Seabees also respond to national disasters such as hurricanes and floods. The Seabees have been a part of every major conflict the United States has been involved in since their inception, in 1942.
Thank you and God Bless America
Sherron E. Hampton
NSVA Trustee
NC Island X-1 Secretary
---
We can always count on FACVB it to provide fast and courteous responses to any inquiries from the Commissioners' Office.
Marsha Fogle
Clerk to the Cumberland County Board of Commissioners
---
Myron,
It was a great pleasure working with you and your staff during our recent NCAE Convention which was held in Fayetteville. Your professionalism was outstanding and I appreciate the manner in which you all handled every request we made of you whether it was large or small. Thank you and I hope to work with you again in the future.

Carolyn Evans
NCAE Convention Planner
---
I saved many hours planning my site visit by taking advantage of the services the FACVB offers. Myron Jones, Director of Sales at the bureau, arranged and took me on site visits to the hotels and area attractions, and provided a list of vendors for transportation needs. He kept in touch through the planning process and followed-up after the conference.

Janice Bolick
Program Coordinator, NC Conference of Superior Court Judges
---
I have worked I with visitor bureaus in the past, not like your organization in Fayetteville. You guys DEFINITELY go above and beyond!

Chris Rehm
Raleigh Region, Marketing Department, McDonalds Corporation
REUNION TESTIMONIALS
Myron, you did a great job of selling us the Fayetteville area. We enjoyed our visit with you, and look forward to working with you toward a successful USS BOSTON reunion in that area.

FYI, we are presently working out the details of a contract with the hotel.

We will have some specific requests for you with regard to Fort Bragg and your contacts there.  When we get our tour possibilities in more concrete form we'll get back with you to get some definitive plans in place. Ultimately, our Tour Coordinator will contact you.

Thanks for the CVB's and the services they provide!
Art Hebert
USS Boston Reunion Planner
Submitted: July 30, 2014
Source:  Email
---
Letter received by hotel from Reunion Planner regarding reunion set up by the FACVB and held at one of our partner hotels.
HIGHLIGHTS
Not one gripe or complaint was mentioned by the attendees during the reunion and this almost never happens.
I have been planning these reunions all over the USA every two years since 1995. I can say, without any reservations, that the 2014 reunion was the best one yet.
There is no one-sentence that will describe our satisfaction with the Holiday Inn Cedar Creek. I will close now and summarize what I have written by saying that any of my attendees that did not get everything they wanted from the property, they must have not asked for it.
Bill Baucom
Reunion Planner, OCS Class 3-60
Submitted: May 13, 2014
Source:  Email to hotel
---
Mr. Myron Jones was the best, and most thorough CVB Rep that I have ever met in the other 8 cities in which I have held reunions. He is an incredible CVB Rep.
We are one group of soldiers that went to Officer Candidate School, graduated and commissioned in 1960, who hold a reunion in a different city every two years. However, if you keep Myron on the Staff, we might return to Fayetteville/Ft. Bragg again very soon !!!!!!
Bill Baucom
Reunion Planner, OCS Class 3-60
Submitted: May 12, 2014
Source:  Post Reunion Survey
---
Please thank Myron for the assistance he has given us and the friendliness he has shown us.  And, "Oh Yes", OCS Class 3-60 will be holding our reunion in Fayetteville in May 2014 at one of Myron's hotels.
Sincerely,
Herbert B. Eagon, Jr.
Brigadier General (Retired)
Class Coordinator
Submitted: June 20, 2013 
Source: Letter
---
Hello Myron,
Thanks, thanks, and thanks many times over for all you have done for me in trying to schedule our 2014 reunion.  Herb and I plan to pass on more thanks to your boss.
You are the greatest and I could not have managed without you.  You are living proof of the wisdom of "When one is planning a reunion, the very first thing they should do is CONTACT THE CVB IN THEIR AREA OF INTEREST !!!!!!!!!
Best regards,
Bill Baucom
Submitted: June 9, 2013 
Source: Email
---
Date:  August 7, 2012 
Source: Facebook
---
Ms. Shannon,
I'm sure that my mother and my two uncles will be filled with overwhelming joy when they witness how much time and love everyone put into this gathering. Thanks a million for your time, support, work ethics and patience.
With tear stained eyes, I humbly thank you.
In Her/His Stories,
Joann Frasier Dasent
Submitted: May 8, 2013 
Source: Email
---
Shannon was very helpful, resourceful and prompt, and I greatly appreciate her.
Edith Bell,
Leak, Ingram, McIntyre, Hayes, Sinclair, and Jones Family Reunion
---
Shannon was a very wonderful person to me as well as being so helpful toward me with any questions or concerns I might have had towards the family reunion...when I first met Shannon her first impression hit the spot.  She was more than helpful to me and I guess because I live in PA and I was holding a family reunion in NC. I would like to thank Shannon again for a wonderful job well done.  If it wasn't for her helping me out with contacting the hotel when they wouldn't call me back I don't know where the reunion would have been.  Shannon was always on top of things whenever I emailed or called her.  I would get a response back ASAP or no later than the next business day.
Diette Harris, Bass Family Reunion
---
Thank you for your support—Shannon for your support during the planning of the Melvin Family Reunion.  It was a success due to your efforts.  You demonstrated professionalism throughout our relationship.  Your knowledge of the area and contact information was right on the money for our family to have a successful, fun, and entertaining event for July 2, 3, and 4, 2012. The Visitor's Convention Center should be proud to have someone like you on staff.
Betty Beasley,
Melvin Family Reunion
---
Cheers and sincere thanks to Shannon Deaton and the Fayetteville Area Convention and Visitors Bureau.  She was a pleasant angel in helping us prepare for the Ford family reunion.  Her positive attitude and resourcefulness speak well for the city of Fayetteville.
Dorothy Thomas and Douglas Ford,
Ford Family Reunion
---
This letter is to formally and publicly commend Shannon Deaton for the excellent service she provided to the Lomax – Hammond Family Reunion throughout our planning for our reunion in Fayetteville.  She was a tremendous help all year long. What particularly impressed me was the level of service Shannon provided. I just want to say thank you, Shannon, for your diligent work with me and making this reunion a success.  We all had a great time. In closing, I believe that Shannon and her team deserve to be congratulated and rewarded for customer service well beyond by expectation.
Marsha Clark,
Lomax-Hammond Family Reunion
---
Dear FACVB Team
Please accept our thanks on behalf of the Thomas-Brown Family Reunion.
Your professionalism from guest accommodation proposals to welcome bag enclosures was superb!  The family enjoyed their stay in the city filled with History, Heroes, and a Hometown Felling.
Sincerely,
Pearlice Diggs,
Reunion Host
Date: August 10, 2012 
Source: Card
---
Dear Shannon:
I just returned to the office today. Our family reunion was incredible! It was everything we wanted it to be and more. I can't thank you enough for all your help over the months of our long, tedious planning. However, it was all worth it. This reunion will always be considered special and a once in a lifetime kind of event simply because the generation that hosted it and brought it to life are my mother and her siblings. They "passed the torch" to the next generation (mine) to carry our family legacy forward. We had almost 100 people which was fantastic. We have never had anything like this before. We are all still talking about it on the phone, sending emails, etc. It will take a while before we all come back down from the excitement of it all.
Again, it has been a pleasure working with you. I am so glad I made that call to your office months ago. If we ever do this again in Fayetteville, I will be sure to let you know! Take care and have a wonderful summer!
Best regards,
Gail Mobley, Murchison-Taylor Family Reunion
Submitted: June 26, 2012 
Source: Email
SPORTS TOURNAMENTS TESTIMONIALS
First and foremost: THANK YOU to the Woodpeckers and to Fayetteville!  Tremendous hosts and partners, you have driven a lead-off hit with a remarkable event in year one.  I feel we could not possibly have done much better for our inaugural collaboration, and I am excited about our future opportunities to grow and improve on this fine start.
A college baseball tournament can be a significant undertaking, but no one flinched from doing the things necessary to make this event work, even when more was needed—extra hours, extra tasks, extra food, extra patience, and so on.  You "got it" right away, even though the Championship demands didn't always mesh with expectations you may have for your normal team operations.  For all of the above, the Big South is grateful, but no one is more appreciative than me, because you often made my job in managing the event easier or more pleasant.  It was nice to be a type of "adjunct staff member" with your facility for the week in getting the job done.
I acknowledge everyone there helped make this happen, and I know you try to recognize the team effort above the individuals, but I would agree that some should be noted for going above and beyond, at least by my observations—
                Rachel, for being the liaison having to handle the full spectrum of requests from our direction as the primary contact,
                Alpha, for being able to accommodate our teams and games and late requests on that beautiful field with such patience,
                Mike/Magic, for being the guy keeping everything moving behind the scenes to the degree that the umpires considered this our "best ever" tourney,
                Pete, for being understanding and flexible when a TV production threw itself into his space and dealing with sponsorship items and changes even on short notice,
                Chris, for being the "glue guy" that always seemed to be there to fill the gaps, hold things together, and generally solve a wide range of problems for us,
                Gabriel, for keeping things humming at such a level in the ticket office that this may be the least noise I've ever gotten from schools for admissions.
Special thanks also to catering/hospitality for keeping our "captive audience" group fed throughout the week – I think that's Austin and Marianna we need to thank for juggling the ongoing wants/needs upstairs for us…well done!
Finally, I would also extend the individual salutes to one outside the team, but as instrumental as anyone in making the tournament work: Stephanie Decatur with the Fayetteville CVB deserves any and all praise we can send her way.  She got our teams situated with hotels, she solved problems I brought to her attention, and she even solved problems before I knew they existed.  Outstanding work, and hugely appreciated.
Before I sign off here, please understand that I asked people for feedback every day of the championship…it's pretty much unanimous:  they love the ballpark and they like seeing the Big South Championship in that venue.  I'm hoping you were able to receive similar feedback during the week because the praise is well-deserved.
That's all I wanted to say, at least until we can arrange to get together this summer for a debrief meeting/evaluation of the championship week.
I'll reach out on that soon but will wait until at least everyone has taken a moment to catch a breath.
Our sincere thanks once again,
Mark Bryant
Director of Broadcast Services and Development  l  Big South Conference
7233 Pineville-Matthews Rd., Suite 100, Charlotte, NC 28226
Submitted: May 28, 2019
Source:  Email
---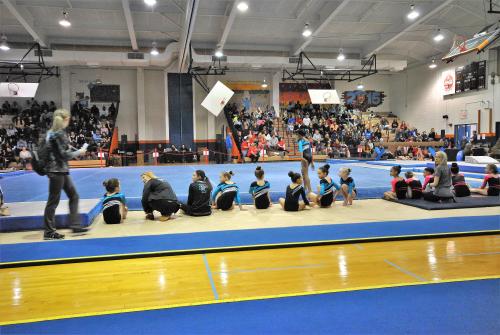 Hi Stephanie!  CountrySide Gymnastics would like to thank you, Melody, David, and the Fayetteville Area Convention & Visitors Bureau for your support and participation in our 4th annual All American Dream Gymnastics Meet!  It was a huge success and we received some great feedback about our event and the city of Fayetteville!  Some visiting teams are interested in returning again next year!  
We received many compliments on the goody bags you all donated.  Uncle Sam fits right in with our theme and really gave a personal touch!  We also appreciated the Fayetteville tour literature, the press releases, and the photography.  David Nash did a great job and was very personable.  We currently have you all listed as a meet affiliate on our website (www.countrysidegym.com) as a show of gratitude and for people to explore things to do while in Fayetteville.
Thanks again for your involvement and please save the date again for us next year....January 25-26, 2020!  We will be in touch. 
Sincerely,
Donna Witt
Meet Coordinator
CountrySide Gymnastics
Date: January 31, 2019
Source: Email
---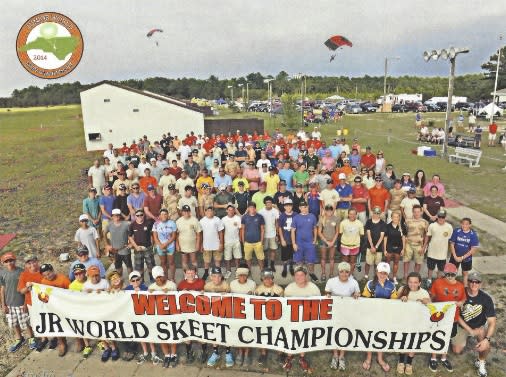 We want to personally thank the bureau for its support to the Junior World Skeet Championship, held in July 2014. When we started planning, we had no idea how to address some areas. Your staff was so helpful in many areas particularly Jesse and Bhairavi, whom we dealt with the most.  Helping arrange hotel contract and providing items and information for the welcome bags was critical and they suggested other places and people for possible support. Our job of planning the event was made easier with the help of the bureau's staff. Attendees were very happy they came to the Fayetteville/Fort Bragg area.
Jim and Belinda Tiner
Tournament Directors
Date:  November 21, 2014
Source: Thank You Card
---
On behalf of the North Carolina High School Athletic Association, we wish to extend this letter of thanks and congratulations.  The 2014 Eastern Regional Basketball Tournament hosted in Fayetteville at the Crown Coliseum was an outstanding event and your involvement and support for this event was greatly appreciated.
We appreciate your commitment to the NCHSAA events in Fayetteville and hope that we can, along with the Tournament staff, count on your support next year.
Davis A. Whitfield & Carolyn Shannonhouse
Commissioner and Assistant Commissioner
Date:  March 12, 2014
Source:  Letter
---
Jesse has been instrumental with getting the right people in the room to assist Elite Tournaments with planning a new tournament in Fayetteville.  His understanding of the youth sports market and the key decision makers has accelerated the planning and development process to get us on the way to creating a top level event in a new location while working with excellent local partners.
Matthew Libber
Elite Tournaments
Vice President of Operations and Business Development
Date: May 15, 2013  
Source: Email
---
Jesse
It was nice working with you during the Eastern Regional Basketball Tournament. You took care of all our needs and it was a pleasure working with you.
Thanks so much and I look forward to our event in Fayetteville next year.
Carolyn Shannonhouse
Assistant Commissioner Sports
North Carolina High School Athletic Association
Date:  March 2013 
Source: Email
---
Had a compliment about your (FACVB) wonderful services from a friend who was here for a volleyball tournament last weekend. Keep up the good work!
Gill Security Systems, Inc.
Submitted: January 18, 2012 
Source: FACVB Facebook Page
 
---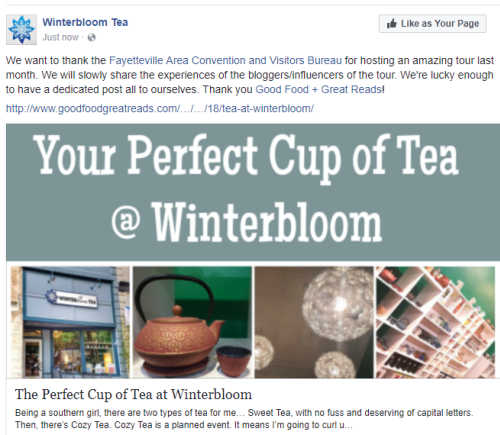 Thanks for the link. http://www.goodfoodgreatreads.com/2017/07/18/tea-at-winterbloom/
Such an awesome piece! It is awesome what you guys have organized and we have already seen customers that have come in from it. Thanks again for all your hard work over there! 
Joshua Choi
Winterbloom Tea
Submitted:  July 19, 2017  
Source:  Email
---
Melody,
Thank you for making my job easy.
Jason Frye
Food and Travel Writer
Submitted:  August 19, 2015
Source:  Email
---
I have worked with Melody over the years when we were promoting the RE/MAX World Long Drive Tournaments in Fayetteville, NC. Being personable and having the ability to communicate are just two of Melody's strong suits. The entire staff at the Fayetteville Area Convention and Viistors Bureau are a credit to our city and the small businesses within our community.
I highly recommend to any public affairs or marketing assignment.
Ed Badgett
Owner/Operator/Golf Pro
Carver's Falls Golf Range & Pro Shop
Fayetteville, NC
---
Hi Melody and Shannon, 
You two are terrific at helping to promoting the Garden! Thank you so much.
Meg Suraci
Director of Marketing
Submitted:  August 25, 2014  
Source:  Email
---
This is the type of stuff the FACVB provides us. This is an example of the public relations value we report every month. The collaboration of our staff with the FACVB makes all this possible. Melody Foote from the FACVB is directly responsible for this effort.
The Winston-Salem Journal ran a "day trip" story on Fayetteville this morning. Your event or facility is included in the story.
The circulation of the WSJ is 49,515 and the estimated advertising value $1635
www.journalnow.com/relishnow/travel/road_trips/fayetteville-a-place-to-pay-tribute/article_a3e740f8-a489-11e3-9a70-001a4bcf6878.html
Hats off to the CVB.
Paul Galloway
Executive Director
Airborne & Special Operations Museum Foundation
Submitted:  March 6, 2014  
Source:  Email
---
When I am working on articles about Fayetteville, Civil War sites, Fort Bragg, traveling with pets and other subjects, I can always count on Melody to provide me with the information I need to complete my assignments.  She also has an excellent reputation for getting news about special events out far in advance, giving reporters a chance to develop stories.  Conscientious, professional and attentive, Melody is excellent at her job and an asset to Fayetteville and the journalism community.
Maryln Jones
Freelance Travel and Feature Writer
Submitted:  March 16, 2013
---
Melody is an excellent Communications Director, both from a PR and media standpoint. As a travel journalist, I've worked with her in the past on an editorial fact finding trip to Fayetteville.  She was very helpful at providing suggestions and helping me set up a two-night visit to explore the area for a major profile in SouthernTravelNews.com. One Plus? She also does very good follow-up with reporters after the fact -- making sure we have everything we needed.  You don't always find that with some CVB PR folks.  Melody is very professional, very knowledgeable, and very easy to work with!  FYI, I previously served as director of PR at a Fortune 500 firm, a major U.S. airline, so I know what good PR is.  She is a positive force for the CVB in crating good ink about her destination.  In turn, she is also highly valued by travel media seeking information about Fayetteville.  Highly recommended.
Susan Young
Editor and Publisher, SoutherTravelNews.com and Southern
Submitted: March 16, 2013
---
Melody always presents herself and her destination in a professional manner.  She is a good communicator and is eager to assist or provide you with answers.
Maralyn Hill
Board Member, Co-Chair Conference and Media Trip Committee
Past President, International Food Wine and Travel Writers Association
Submitted: March 31, 2013
---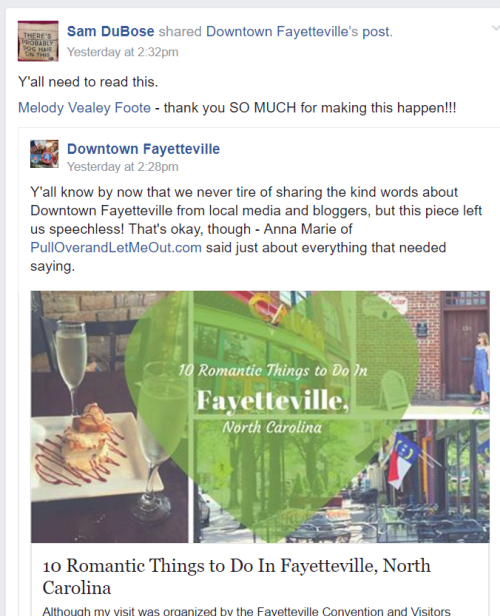 Submitted:  July 2017  
Source:  Facebook
---
Dear Melody
Just a note to thank you and everyone for a fun few days in Fayetteville. I had a great time! I've been a tour host as well as a guest, so I know the hard work that goes into making a good tour happen. There are always challenges, but you handled everything with grade and (apparent) calm. I hope you get lots of positive press as a result of the meeting. Thanks again for making me feel "at home".
Steve Kappler
Submitted: 4/30/12
Source: Card in the mail
---
Dear Melody
Thank you for being such a gracious tour guide on my trip to Fayetteville. I learned so much about why families would enjoy going there. The gardens and food were particularly impressive. If you would like to suggest publications I should approach, I will follow up with them, but I will be writing up my trip for my column soon. Thanks again.
Carol Antman
Travel Writer
Submitted: March 2012
Source: Card in the mail
Shannon did a FABULOUS JOB in obtaining quotes for my client. She also followed up through the process to make sure that we were okay, or if we needed anything. EXCELLENT customer service! --Vivian Baldwin, Hammitt-Sass Wedding