If anyone is a true native son of Fayetteville, it'd be Myron, aka Mr. Fayetteville. The running joke in our office at the Fayetteville Area Convention & Visitors Bureau is, if Myron isn't related to someone here, he probably knows them (or their daddy or auntie). Our Director of Sales and a U.S. Air Force retiree has taught this native Texan much about Cumberland County—to include what it was like growing up in the backyard of America's largest military installation and how Fayetteville has evolved into the vibrant, diverse city it is today.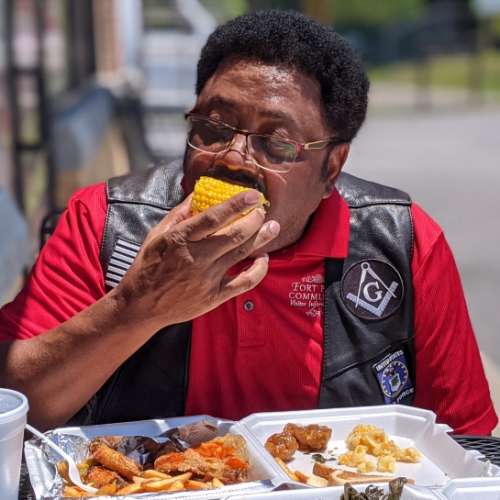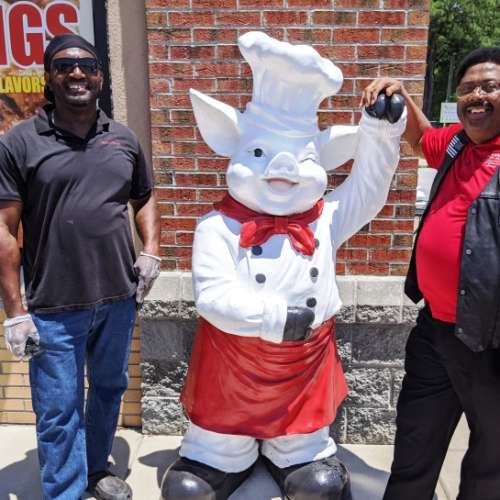 Over the five years I've worked with Myron, we've made a practice of trying a new restaurant on a regular basis, making our rounds to just about every corner of Cumberland County. We both really appreciate those discoveries that involve a mom-and-pop eatery offering international or Southern cuisine. In fact, two years ago, he took me on a Soul-Food tour, and we ate our way through some of the best fried chicken, pork chops, collard greens, yams, and macaroni and cheese I've ever had in the South.
Today is no different. In fact, I was enjoying some soul food with Myron recently at Saucy Wings, located just a block from where'd he'd grown up in Spring Lake, North Carolina. The minute he took the first bite of his lunch, he said, "Now this is how you do fried green tomatoes . . . thin and crispy!" As it turned out, the owners of Saucy are his cousins.
Myron's also introduced me to friends and owners of his go-to tie shop, shoe shop, restaurants, and more over the years, as he loves to support small business owners in our community as much as I do. With the inspiring conversation happening across the U.S. about supporting specifically Black-owned businesses right now, Myron and I wanted to shine a light on several Black-owned restaurants for Go Fayetteville's followers. Let us share with you why these gems help make Cumberland County a special place.
310 Hay Street, Fayetteville
Nathan Cuffee and his husband, Joshua Angelini, bought this popular café in December 2018 and have poured their sweat and tears into this business. They're also known for the many ways they pour their hearts into the surrounding downtown community. Just one example of that occurred recently when Nathan and Joshua prepared a feast and gave plates away to volunteers helping with downtown cleanup.
With its proximity to our own downtown office, Blue Moon is a convenient option for Myron to grab lunch with a coworker or client. He's a big fan of one of the popular items on their menu—smoked salmon—and you'll find that available as a tapas dish, on their "De-Lox Bagel," and as an add-on to any of their fresh salads. Soup is a must-have here, as well, according to Myron (see Tomato Basil).
2013 Murchison Road, Fayetteville
Tercel Walker is a former college football player and graduate of our HBCU, Fayetteville State University. After working in the local hotel industry for 12 years, Tercel invested in a small fried-chicken business less than one mile from his alma mater. As The Fayetteville Observer ran the news headline then, "Crown Fried Chicken puts caring ahead of profits." Tercel's mission was "'to be a place people knew they would be welcome, even if they didn't have money,'" and that hasn't changed over the years.
Tercel's inspiring business model helped Crown Fried Chicken grow in popularity, and that's especially the case with the late-night crowd looking for some serious comfort food after a night out. Myron remains a fan of their fried wings because of their light breading and heavy seasoning. His go-to side dishes are collard greens and macaroni and cheese, and if he were joining you for a meal there, he'd tell you it's not complete without their infamous "Mumbo Sauce."
Tercel owns another Crown Fried Chicken at 3404 Ramsey Street, Fayetteville.
Drop by the River Seafood
1130 Person Street, Fayetteville
When Myron wants to treat his wife to a nice dinner out, they often head to Drop by the River Seafood—located on the outskirts of downtown, overlooking the Cape Fear River. This restaurant is the second one Chef Yamani Albert, a U.S. Army veteran, has launched in Fayetteville over the last couple of years, and it all started for him with just a few hundred dollars, a couple of coolers, and a pop-up event. When Hurricane Florence hit Cumberland County hard, Chef Yamani gave away 1,000 pounds of seafood to a line of people that wrapped around his building, and that's just one of many ways he's given back to this community since becoming an entrepreneur.
Not counting Chef Yamani's other restaurants, Drop by the River has 120K+ followers on Facebook alone now, as he's created a menu that is both affordable and addictive. Myron's recommendation is to start with the Royal Combo—snow crab cluster, shrimp, sausage, potatoes, and corn. Make sure you ask for Chef's signature "Drop Sauce," and you'll know why Myron insists it's what distinguishes their seafood from everyone else's. If you really want to indulge, treat yourself to the Fried Cheesecake for dessert (and thank Myron later).
Chef Yamani owns another restaurant and catering business, Straight Drop Seafood & Catering, at 594 South Reilly Road, Fayetteville.
5474 Trade Street, Hope Mills
Chef Luis Irizarry (or "Chef Lou," as he's known) and his wife, Edna, have gained a stellar reputation here for their catering services and more. Chef Lou "has always had a love affair with cooking," and after he retired from the U.S. Army in 2006, he decided to pursue that passion at Fayetteville Technical Community College. Since graduating, he and his wife have launched a few different businesses, but catering is what really makes them stand out here.
In Myron's job as Director of Sales, he often assists his clients with finding reputable caterers for everything from military reunions to religious meetings, and Elite Catering NC has always provided Myron's clients with an impeccable culinary experience. Chef Lou and his team pride themselves on offering a menu that runs the gamut from a simple "cookout to an elegant, five-course, seated dinner." He doesn't just offer full-service catering, though; his team of experts can assist with event planning from start to finish, as well.
The Irizarrys also own a food truck, which pops up at events and businesses around town, and the Garden View Café at 536 North Eastern Boulevard, Fayetteville (Cape Fear Botanical Garden).
2401 Murchison Road, Fayetteville
Not surprisingly, Fayetteville can boast five or more Jamaican eateries, and one of the most popular ones is Jamaican Kitchen, owned by Reggie Gray. The fact Reggie's eatery is frequented by so many West Indian customers speaks to the authenticity of his cuisine. Anyone who's ever eaten Jamaican food knows spices are integral, and you'll find Jamaican Kitchen certainly keeps their dishes authentic to the island's unique flavors.
Myron especially appreciates this eatery's menu variety. You'll find all the traditional dishes here, from jerk chicken to beef patties to curry goat to plantain chips. Myron recommends folks start with his favorites: oxtails, peas and rice, and cabbage. One more pro's tip is to order a Jamaican soda and some of their rum cake.
6228 Yadkin Road, Fayetteville
When Myron heard there was a new jazz lounge in town, he was excited to check it out with his wife, and he was not disappointed. Owner Darren Donovan wanted to create a place where folks could experience "a grown, sophisticated, and sexy jazz nightlife." Every night they're open, Marley's features themed entertainment—from "Spoken Word Tuesdays" to "Jazzy Wednesdays" to "Throwback Thursdays." The vibe is truly upscale, with a strict business-casual dress code enforced after 7:00 p.m. daily.
This classy lounge is much more than just an entertainment venue, though. Thanks to Chef Kimberly Dandy, Marley's offers a full menu—to include breakfast, lunch, and dinner—as well as a café menu and specialty cocktail menu. Their fried ribs, lemon garlic shrimp, and wings with honey hot sauce are Myron's top recommendations here.
600 North Bragg Boulevard, Spring Lake
This veteran-owned and family-run eatery has become so popular that it had a steady stream of cars ordering take-out from the onsite food truck when Myron and I visited on a Thursday. Owner Bennie Bryant (or "Squirrel" to those who know him well) was a cook while serving in the U.S. Army and has transferred his culinary skills over to his business.
Bennie and his team pride themselves on offering "the BEST wings ever" with house-made sauces, but their extensive menu includes so much more Soul-Food goodness. Myron is certainly a fan of the wings here, and he also recommends newcomers try the pork chops and fried green tomatoes (I wholeheartedly second those recommendations myself).
1707 Owen Drive, Fayetteville
Chef Judith Cage, better known as "Chef Judy," has appeared on four different Food Network shows: Chopped, Cutthroat Kitchen, Restaurant Impossible, and Supermarket Stakeout. She brought home a $10K win from her last appearance, in 2019. Before that, she served in the U.S. Army for six years as a Food Service Specialist and went on to train and apprentice under French chefs. She's certainly earned legendary status on the local level and beyond for her Southern-style eateries, catering business, and personal chef service to celebrities (ex: Mark Zuckerberg).
Myron heads to Ramada Plaza to dine at Chef Judy's newest Uptown's Chicken & Waffles, which she co-owns with RaShawn Moore. His go-to there is the wing plate—"good and crispy on the outside and moist on the inside"—with collard greens and macaroni and cheese. If wings aren't your thing, you really can't go wrong with Myron's mother's "all-time favorite": Chef Judy's signature shrimp 'n grits.
Chef Judy also owns the following restaurants in Cumberland County: Let Me Cater to You at 5446 Reilly Road, Building 289, Pope Army Airfield; Uptown's Chicken & Waffles at 7105 Bragg Boulevard, Fort Bragg (Stryker Golf Course); and Uptown's Chicken & Waffles at 1960 Coliseum Drive, Fayetteville (Crown Coliseum Food Court).
For a full list of Black-owned businesses in Cumberland County, visit here.