Out of all the Cultural Heritage Trails developed by the Fayetteville Area Convention & Visitors Bureau (FACVB), the Fish & Game Trail is the most popular. Why? Because it provides our visitors with a handy guide and map that will lead you straight to 30 fishing holes. Cumberland County definitely has its fair share of bodies of water, perfect for spending those lazy summer days on, and I'm highlighting just a few of the popular ones. What if you're not the fishing type but still enjoy great seafood? Even though Fayetteville is inland, we still have options here. I'm dishing on two outstanding seafood restaurants that keep our locals coming back for more.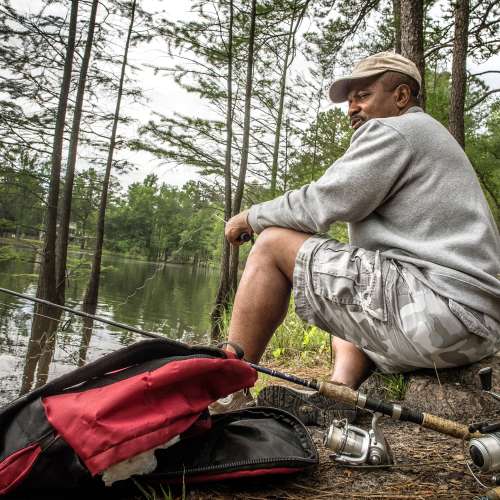 Just one of the sites you'll find on the Fish & Game Trail is this fishing education center, operated by the North Carolina Wildlife Resources Commission (WRC). In fact, Cumberland County is fortunate enough to be home to the only dedicated fishing education center in North Carolina. Pechmann's mission is to educate the public on aquatic habitat conservation, and they accomplish this by offering a wide range of interactive programs and clinics, almost all of which are free. Summer is perhaps the best time to plan a visit to Pechmann. Public fishing events, such as their recent Youth Fishing Day, are quite popular. As you'll see in their list of events, they offer fun and practical programs for the experienced angler and the beginning fisherman alike.
Tip: If you're planning a visit to North Carolina from out of state, it's well worth reading up on our state's fishing rules, regulations and other guidelines beforehand. Refer to NCWildlife.org for all that info, plus how to purchase licenses and permits.
This picturesque lake, adjacent to Pechmann, is one of Cumberland County's bodies of water that offers a boat ramp and canoe/kayak access. You can also cast your line from their fishing pier. Here are just a few spec's on this lake, as provided by the WRC:
Waterbody Type: Lake/Pond
Primary Species: Catfish, Largemouth Bass, Sunfish
Maintained By: North Carolina Wildlife Resources Commission
Access Types: Fishing Pier, Boat Ramp, Canoe Access
Site Coordinates: 35° 1' 58" N, 79° 2' 24" W (35.0329, -79.04)
Tip: Lake Rim Park, operated by the Fayetteville-Cumberland County Parks & Recreation, offers a Fishing Tackle Loaner Program. This park is also a lovely, wooded spot to take the family for a picnic, hiking, playtime and more.
This 200-mile river runs right through Fayetteville, touching the outskirts of our historic downtown. There is more than one way to access this body of water for fishing, but one of the more popular spots is Campbellton Landing, the historic site that became the first settlement in this area. Today, you may launch your boat or other watercraft from Campbellton's private boat ramp, which is now maintained by Deep Creek Outfitters. Just drop off your $5 payment at their onsite bait-and-tackle shop or put your payment in the drop-box after hours. Otherwise, bank fishing is completely free here.
Another site to launch your craft on the Cape Fear River is the Fayetteville Boating Access Area, located off Wilmington Highway. Here are the spec's on this site, according to WRC:
Waterbody Type: Stream/River
Primary Species: American Shad, Catfish, Largemouth Bass, Spotted Bass, Striped Bass, Sunfish
Maintained By: North Carolina Wildlife Resources Commission
Access Types: Boat Ramp, Canoe Access
Site Coordinates: 34° 59' 48" N, 78° 51' 2" W (34.9967, -78.8506)
Tip: Another good reason to visit Campbellton Landing is the Deep Creek Grill, which serves tasty burgers and Southern comfort food. Also look for Cedar Creek Fish Farm's fresh catfish on their menu. In the meantime, read more about this new eatery in "A Burger Tour of Cumberland County."
This family-owned-and-operated business is a true agritourism gem in Fayetteville. At this farm, you can try your luck at catching farm-raised catfish, tilapia, and more. These folks raise their fish in well water and feed them with grain, resulting in a cleaner environment and better-tasting fish. You do not have to pay to cast your line, but you do have to pay for what you catch. An additional perk here is, you don't even need a license if you're fishing during their operating hours. Regardless if you catch anything or not, you can even purchase a wide range of seafood and more direct from this farm. Pack up your poles, grab the kids, and head out to Cedar Creek for a fun day on the farm!
Tip: You'll find Cedar Creek Fish Farm's food truck popping up all over Cumberland County and serving folks fried catfish, shrimp, tilapia and more. Just follow @cedarcreekfishfarm to track all the places they go—from local breweries to festivals.
Straight Drop Seafood & Catering
At almost 200,000 Facebook followers, it's safe to say this restaurant has a true cult following. Straight Drop started out as simply a pop-up seafood business. Then Chef Yamani opened a simple eatery where folks could just pull up and order his food to go. This spot quickly became such a success, with lines of customers wrapped around the building, that Chef opened a second restaurant. Meanwhile, if you make your way to his Reilly Road spot, you can either order take-out or pull up a chair and eat onsite. Ask any local who's discovered this place, and they'll tell you it's simply the best of the best.
The first time I visited Straight Drop, I ordered the classic Lobster & Shrimp—a heaping platter of fried shrimp and lobster tail, corn, potatoes, and sausage. With that first experience, I decided that not only is the seafood of premium quality here, but Chef Yamani has perfected the art of preparing shellfish. What takes his cuisine over the top, though, is the rich sauce he pours all over the generous portions he serves up. I'm telling you, this butter-based sauce, full of spices and herbs, can create a real addiction, and you will catch yourself going back for more. Now, if you find yourself on the eastern side of Fayetteville, head toward Chef's other restaurant, Drop by the River Seafood, at Campbellton Landing. Yes, Campbellton is the same fishing spot I mentioned above. You're able to catch 'em and eat 'em right on the Cape Fear River!
Tip: Are you staying in a hotel and wanting to order this deliciousness to go? Both Fay To Go and Speed Waiter can deliver Straight Drop to your door. Also consider placing a catering order with this restaurant to take your family reunion, business meeting, etc. to the next level.
A classic Southern oyster bar is how I've described this Fayetteville treasure to our visitors. From the bright neon sign out front to the basket of hot hush-puppies they bring to your table, this place takes me down memory lane to family vacations on the coast. Again, Fayetteville may be inland, but that's why 316 has fresh seafood delivered to them straight from the coast every day. Their extensive menu offers a little bit of everything, from crab legs to low-country steam pots to seasonal fish like red snapper. Even land lovers have options, such as steak and pasta. Personally, I'm ordering the peel 'n eat shrimp and oysters every time I go. In fact, my family and I just dined at 316 over the weekend, and it's still just as popular a restaurant as it's ever been. Take the time to visit this Fayetteville mainstay the next time you're in town.
Tip: If you're a competitive foodie, you'll want to order the Rooster—raw oyster on a saltine cracker, with a jalapeno slice, black pepper and hot sauce. Down three of these and you get a free t-shirt and bragging rights!
This blog only begins to scratch the surface of the many fishing holes you'll find all over Cumberland County. For a comprehensive list, be sure to check out the Fish & Game Trail. You'll also discover the greater Fayetteville area has plenty of other fantastic seafood restaurants to choose from. You may peruse those options on the FACVB's website, in the Food & Drink section. Additionally, outdoor events and much more may be found on the FACVB's Calendar of Events.
This blog's featured photo was taken by the John E. Pechmann Fishing Center Director, Tom Carpenter, to whom all photo credit is given.

Click on map to view the full Fish & Game Trail