I was blessed to be born into a family of Southern women who knew what they were doing in the kitchen. My great-grandmother used a ruler to measure her hand-rolled dough strips for chicken 'n pastry. Nobody could fry fresh-caught catfish like my grandma. Thanks to my mom, I know the secret to making perfect cornbread every time is in using a cast-iron skillet. Today I still crave those flavors of down-home Southern cooking, especially soul food. That's why I recently recruited my coworker, Myron, to accompany me on a soul-food hunt around Cumberland County. Myron was born and raised here, in the Town of Spring Lake, and just like me, he has an appreciation for hole-in-the-wall eateries. Our quest led us to some real gems, and I'm not about to keep them a secret.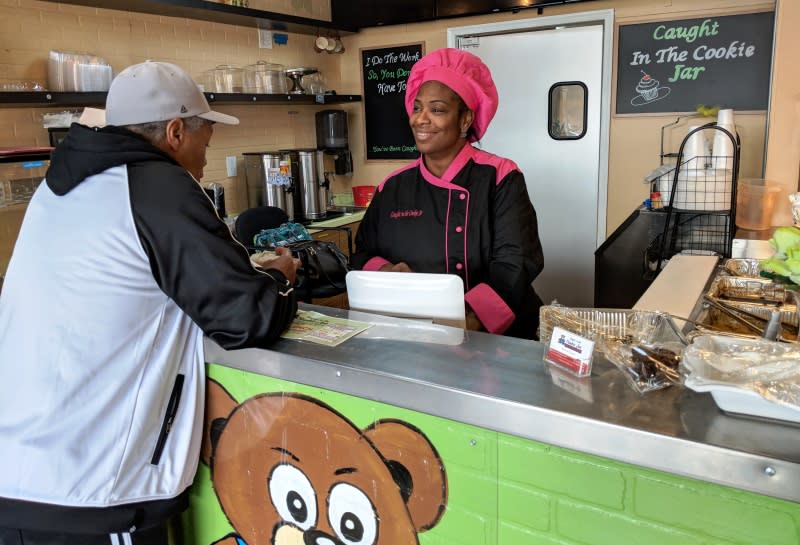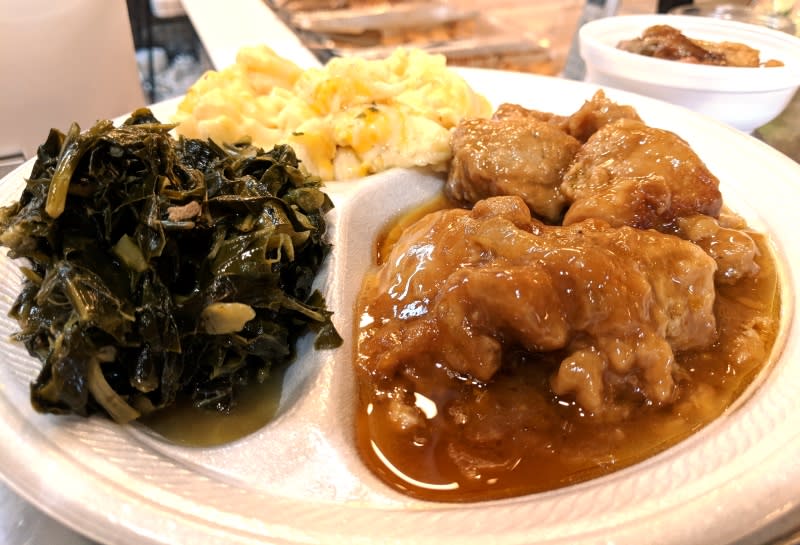 Don't let the name fool you. This treasure may have started out as a bakery in Westwood Shopping Center, but Chef Shannon recently began offering her customers weekday lunch specials and short-order meals, as well. Myron and I stopped into the Cookie Jar on what happened to be "Soul Food Thursday." What luck! Painted on the wall is the eatery's slogan, "You've been caught," and that's exactly what happened to us.

Having to decide between pig feet, neck-bones and turkey wings was a difficult choice, but I settled on the neck-bones while Myron went with turkey wings. Naturally, macaroni 'n cheese and collard greens had to happen. I won't reveal the chef's secret to making fall-apart neck-bones, but what I can tell you is they were smothered in a gravy so rich that I wanted to sop it up with my roll. Myron's turkey wings were just as savory, and we both gave the mac 'n cheese a good working over. Needless to say, you'll catch us at the Cookie Jar again.
Tip: Don't leave here without trying some of Chef Shannon's baked goods (or take them to go).
NOTE: CAUGHT IN THE COOKIE JAR IS NO LONGER IN BUSINESS.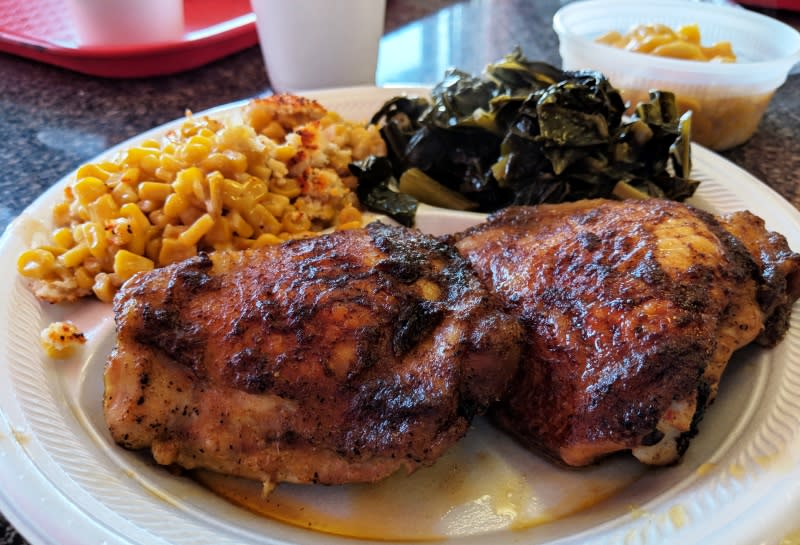 Plan on bringing a big appetite to the table for Chef Judy's menu. This talented chef built up her reputation from her catering business. She's also known for having competed on the Food Network's first-ever military edition of Chopped. Today you may choose from three Let Me Cater locales: Stryker Golf Course, Pope Army Airfield and Spring Lake.

At Chef Judy's Spring Lake spot, Myron and I discovered several tasty choices. Believe it or not, the star of my meal ended up being the herb-baked chicken. Chef's heavy spice/herb blend took these chicken thighs to a whole new level. The same could be said for Myron's grilled pork chops and our Mexican style corn. We also were both impressed with the portion size on our plates—two pieces of meat and heaping scoops of the sides. You really get a bang for your buck here!
Tip: Visit the Spring Lake location on a Tuesday or Wednesday to treat yourself to the braised oxtails, one of their most popular menu items.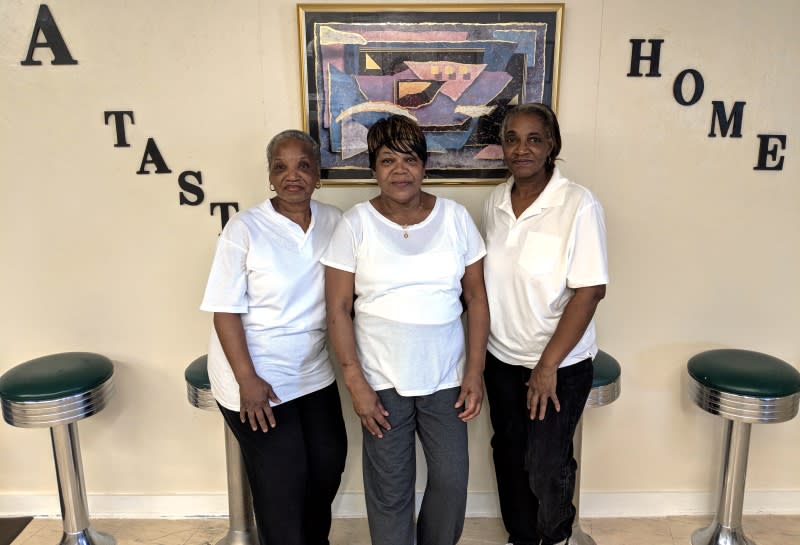 Tucked away in a neighborhood near downtown, this small eatery is quite easy to miss, but Myron had done his research and knew exactly where to take us. As with any good hole-in-the-wall restaurant, walking into Sisters Catering feels like being welcomed into a friend's kitchen. The three sisters who own the eatery—Chefs Peggy, Patricia and Mildred—had been running a catering business for years before they decided to open a store-front last year, offering their customers what they call "A Taste of Home."

Myron had bragged to me about the Sisters' pork chops, so I ordered a plate of those, rice and gravy, cabbage, and a slab of cornbread. It's not a proper soul-food meal if there aren't bottles of hot sauce and pepper sauce on the table, and my food got a good dousing. This meal took me right back to childhood, with the thin chops perfectly fried and tender. The sisters themselves made us feel right at home as they bustled around, getting ready for the lunch rush. Their secret is slowly getting out, and a steady line of folks streamed in, many ordering to-go plates on their lunch breaks. This "taste of home" is well worth a visit.
Tip: Call ahead to verify hours and ask about the daily menu: 910-223-5663.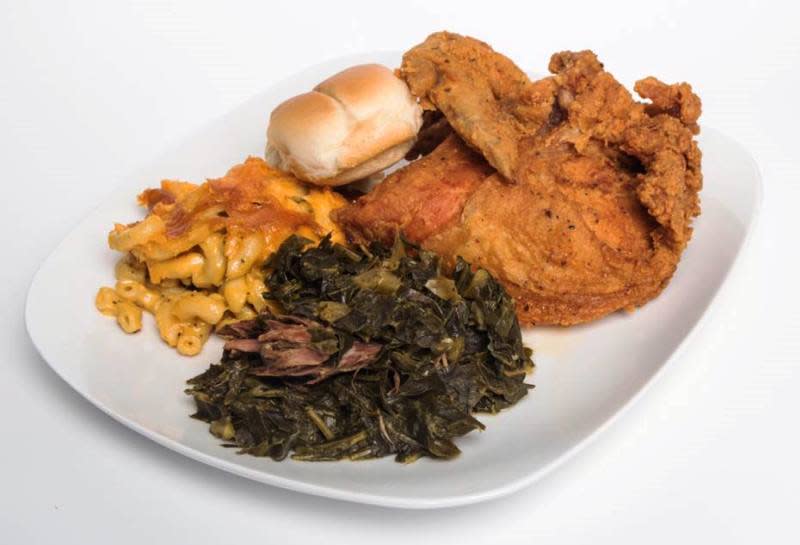 Known for "A Little Soul on the Go," this food truck has developed a cult following around Cumberland County. Sisters Barnisha and Tiffany wanted to serve folks the same kind of food that their mother, Barbara (or "Babann"), made for them growing up. What really sets this truck apart from others is their fried chicken and red velvet waffles. Today, wherever you find Babann's parked, you'll see a line of loyal fans, eagerly waiting for their plates of "soul on the go."

When Myron and I first tried this truck, we knew we had to order the star of the menu, fried chicken, but we could just as easily have ordered a turkey BBQ plate or even gizzards. Babann's reputation stood up to our taste test, for sure. Not only was the chicken perfectly fried and juicy, the batter was highly seasoned, just like I like it. Our sides, baked mac 'n cheese and collard greens, were homemade comfort food at its finest. No other local food truck can begin to compete with Babann's on the soul-food level.
Tip: Follow @babannsnc on Facebook to track the truck's whereabouts (frequently parked in front of Best Buy on Skibo Road).
For a guide to Cumberland County's other dining options, be sure to check out Restaurants on the Fayetteville Area Convention & Visitors Bureau's (FACVB) website. If you're planning a visit to this area in February, you will find several of Cumberland County's museums, universities, galleries and community centers celebrating Black History Month; read more about those incredible events on "A Black History Month Celebration." Plenty of other things to do may also be found on the FACVB's Calendar of Events.
(I'd like to thank my coworker—Mr. Myron Jones, aka "Mr. Fayetteville" (featured in photo on the right)—for joining me on this hunt, and for tolerating the endless pictures I took while his food grew cold. His nose for finding the best grub in Cumberland County's corners led us to all these treasures.)
Babann's photo above courtesy of @babannsnc