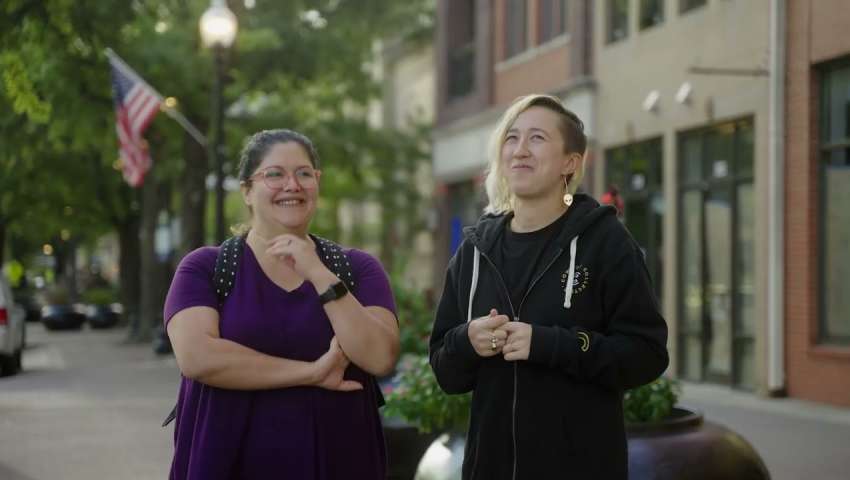 DistiNCtly Fayetteville
Have you done it 'Yette?
Distinctly Fayetteville
Here, history meets history in the making. Where Southern charm meets modern flair. Unexpected thrills bring unexpected respite. And radically different experiences create one distinct destination. Discover why it all works in the Fayetteville Area.
>

Play video.
The Fayetteville Area Convention and Visitors Bureau (FACVB) was ready for a change. A change that redefines who we are and celebrates what makes our area special. That's why we're now DistiNCtly Fayetteville. Our new name and brand embrace the energy, possibility, and excitement of a city on the rise.
We're your guide to all things Fayetteville & Cumberland County.
Next on our list?
Launching a new & improved website on December 12, 2022. Stay tuned!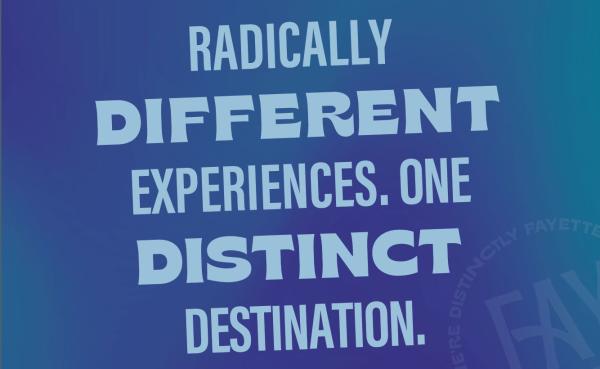 The FACVB unveiled its new name, logo, and brand identity, DistiNCtly Fayetteville, on November 1, 2022 at the Airborne and Special Operations Museum. Anchored in foundational tourism research that gleaned insights into what visitors find attractive about the Fayetteville area, the then-FACVB team started on a journey to envision a new brand that better reflects the region and all it has to offer.
"In Fayetteville and Cumberland County, radically different experiences create one distinct destination," said Randy Fiveash, Interim President & CEO, DistiNCtly Fayetteville. "It is time we have a name, look, and feel that celebrates and embraces our region's energy, diversity, and distinctiveness. Our new DistiNCtly Fayetteville brand does just that. We are ready to share everything that makes the Fayetteville area special – with our community, our region, and beyond."
This journey didn't happen overnight. In the summer of 2021, the FACVB knew they needed a change. For the first time in 17 years, the Destination Marketing Organization (DMO) moved forward with a Request for Proposal (RFP) process to hire a new, full-service marketing and advertising agency. From the beginning, we knew we wanted a North Carolina-based agency. In August 2021, an Request for Information (RFI) was issued to 13 North Carolina full-service marketing and creative agencies. Of that 13, seven asked to receive the RFP, and six proposals were received.
There was an RFP review committee, including city and county tourism industry representatives. Those six proposals were narrowed down to three agencies. Each came in hopes of being our next agency of record. After those interviews, one stood out, and the committee knew they had found the agency to take the FACVB in a fresh, new direction. This was no small task. During their presentation, the winning agency said: "Fayetteville is like this hidden gem that no one knows about. We'd like the opportunity to change that."
With that statement, the FACVB board voted to offer the contract to a new agency, approving the new hire. Shortly after their contract began, the task of this new branding exercise began. It was nine months in the making, and there is more to come!
In addition to the new name, logo, and overarching brand, DistiNCtly Fayetteville will launch a new website and announce a bold new marketing campaign in the coming months. The DistiNCtly Fayetteville team worked with its new marketing and advertising agency, Mythic, out of Charlotte, NC, on the rebrand.
At its core, DistiNCtly Fayetteville is a private, not-for-profit organization responsible for positioning Fayetteville and Cumberland County as a destination for conventions, sporting events, and individual travel. It is the tourism marketing arm of Fayetteville/Cumberland County, fueled by research-based marketing.
Anytime you develop a new brand, a brand positioning statement is the foundation for everything the brand does moving forward. The tourism branding statement that was designed for DistiNCtly Fayetteville reads:
Here, history meets history in the making.
Where Southern charm meets modern flair.
Unexpected thrills bring unexpected respite.
And radically different experiences create one unique destination.
Discover why it all works in the Fayetteville area.
As a community-based DMO, our priority is on growing economic health and increasing quality of life for Fayetteville and Cumberland County while also ensuring a valuable, positive experience for the people who visit this wonderful region," continued Fiveash. "This new brand and our upcoming bold marketing campaign will help us continue to promote our community and broaden our reach to new folks across the region and the nation to come experience, time and again, what makes us distinct."
Travel and tourism for Cumberland County in 2021 generated more than $608 million annually and accounts for more than 4,550 jobs and $163.2 million in payroll. Additionally, state and local tax revenues to Cumberland County from travel amounted to $46.3 million, which represents a $138.49 tax saving for each household in the county. This solid economic travel impact ranks Cumberland County 12th among North Carolina's 100 counties, behind Mecklenburg, Buncombe, Wake, Dare, Durham, and others.
The statistics are from The Economic Impact of Travel on North Carolina Counties study that was prepared for Visit North Carolina by Tourism Economics. Tourism Economics is an internationally respected research organization focused on the travel sector.
Join Our Email List
Sign up for our emails to get the latest news, personalized trip ideas, and special offers that fit your interests!