In 1918, Congress established Camp Bragg, an Army field artillery site named for the Confederate General Braxton Bragg. An aviation landing field named after 1st Lt. Harley H. Pope, whose JN-4 Jenny crashed in the Cape Fear River, was added a year later. After five years, Camp Bragg became a permanent Army post renamed Fort Bragg. Today, Fort Bragg and Pope Air Force Base comprise one of the world's largest military installations.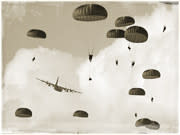 Camp Bragg was established in 1918 when the Army needed to expand its field artillery training facilities in preparation for World War I. They chose this location because it met the following criteria: a climate suitable for year-round training and proximity to port and rail transportation. Named for Confederate General Braxton Bragg, a former U.S. artillery officer from North Carolina, the camp became Fort Bragg in 1922 after Congress decided all artillery sites east of the Mississippi River should become permanent posts.
Fort Bragg's rich airborne history and tradition was launched in 1934 with the first military parachute jump, which used artillery observation balloons as platforms. However, it wasn't until two decades later that the post became an airborne training site.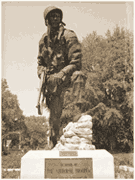 Today, Fort Bragg is the world's largest airborne facility with more than 56,000 military personnel. Widely known as the "Home of the Airborne," Fort Bragg houses the 82nd Airborne Division, assigned here in 1946 after returning from Europe, and the XVIII Airborne Corps, reactivated here in 1951.
The Psychological Warfare Center - now the U.S. Army Special Operations Command - was established here in 1952. USASOC now oversees tens of thousands of Special Operations Soldiers stationed and deployed across the globe. The command's Fort Bragg contingent includes the U.S. Army Special Forces Command, U.S. Army John F. Kennedy Special Warfare Center and School, U.S. Army Special Operations Aviation Command, 3rd Special Forces Group, 4th Military Information Support Group and 95th Civil Affairs Brigade.
Fort Bragg is also home to the 1st Theater Sustainment Command, 44th Medical Brigade, 16th Military Police Brigade, 108th Air Defense Artillery Brigade and the U.S. Army Parachute Team – The Golden Knights.
Fayetteville Observer Information: Fort Bragg: 100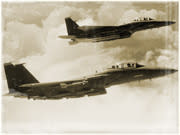 Home to the 440th Airlift Group and 43rd Airlift Wing, along with Air Force Special Operations and training units.
Pope Army Air Field, formerly known as Pope Air Force Base, has played a leading role in the development of U.S. tactics and air-power throughout history. Missions at Pope range from providing airlift for Airborne and Special Operations Units to humanitarian missions flown all over the world.

The War Department officially established Pope Field in 1919, and it ranks as one of the oldest installations in the Air Force. It is named after First Lieutenant Harley Halbert Pope who was killed on January 7, 1919, when the JN-4 Jenny he was flying crashed into the Cape Fear River. Original operations included photographing terrain for mapping, carrying the mail and spotting for artillery and forest fires.