MEDIA CONTACT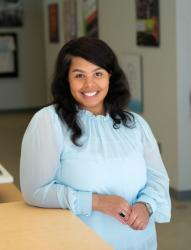 Jada Harkins Andrews
FACVB@eandvgroup.com
Fayetteville's original settlers arrived in 1739 via the Cape Fear River. The area began to grow as a center of government and commerce due to its location as an inland port. The Fayetteville area played key roles in defining moments in America's history throughout the Revolutionary and Civil Wars. The area remains a living museum of the nation's military as it is home to the largest army installment in the country, Fort Bragg.
Of the dozens of cities and counties named after Revolutionary War hero Marquis de Lafayette, this North Carolina city was the first and only location with his namesake that he actually visited. The area's rich history can be relayed through the various history museums, walking tours, and standing monuments that can be found around Cumberland County.
DISTINCTLY IN FAYETTEVILLE
To know Fayetteville, you really have to experience it; this goes for those one-of-a-kind experiences you'll only get here in the Fayetteville area in particular. Fayetteville is home to the U.S. Army Airborne & Special Operations Museum. The museum celebrates more than 80 years of military history, honoring our nation's soldiers – past, present, and future.
Visitors can not only view and interact with displays and educational videos, but they can also immerse themselves in the experience with virtual reality capabilities and a motion simulator. The museum also features a monument called "Constant Vigilance," the world's first memorial honoring Special Operation Forces K9s killed in the line of duty.
Turn the adrenaline up a notch when you sign up for a free-falling experience with Skydive Paraclete XP. Too much adrenaline? You can also opt for Paraclete XP Indoor  Skydiving, which actually offers America's largest indoor skydiving wind tunnel for a free-falling sensation that feels just like the real thing. You'll go home with stories that people will have to see to believe.
Fun for the entire family
Fayetteville is a premier destination for solo travelers, couples, and entire families. Cumberland County has fun activities that will appeal to visitors of all ages, like Sweet Valley Ranch, a 300-acre farm with more than 350 animals representing five different continents. The exotic animals and grassy landscape, located just a few miles away from downtown Fayetteville, transport visitors to an entirely different world. The farm also offers seasonal events, such as Dinosaur World in the summer and a light show around the holidays.
Keep the excitement going by combining incredible views with adventure at Zipquest Waterfall & Treetop Adventure Park. Ranked one of the best zipline parks by USA Today, Zipquest offers views of rushing waterfalls as visitors swing from treetop to treetop. You can fly solo or come with the family for a group experience. The park even offers nighttime ziplining under the stars!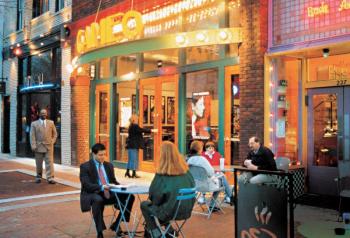 Fayetteville's lively downtown scene, also known as the Cool Spring Downtown District, is where history meets modern day with buildings and architecture that tell the stories of yesteryear, merged with the restaurants, activities, and lively energy of present day. Check out some of the local's favorite restaurants, like Antonella's Italian Restaurante, which specializes in southern Italian cuisine, and Blue Moon Café, a bistro-style restaurant featuring fresh flavors and artwork from the local art scene.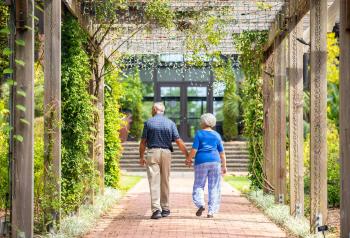 Pair your dining experience with some downtown shopping at Reverie Goods & Gifts, see a performance by the Fayetteville Symphony Orchestra, or enjoy a day of pampering at any of the downtown salons. Expect to spend an entire day exploring all that downtown Fayetteville has to offer.
Dogwood Fall Festival
October 14-16, 2022 at Festival Park
The Dogwood Fall Festival holds activities the entire family will enjoy! On Friday, it begins in Festival Park and downtown Fayetteville with Downtown Hayrides, children's activities, and a selection of food trucks.
On Saturday, activities will expand throughout Festival Park and the Festival Park Plaza Promenade with a wide variety of vendors and live music. Then on Sunday, we will continue with the Classic Car, Motorcycle, & Truck Show.
Cape Fear BOO-tanical Garden
October 27-30 at the Cape Fear Botanical Garden
Enjoy a night in your spookiest costume to walk the pathways of the garden lit by hundreds of carved jack-o-lanterns, lights and more in the spirit of Halloween. The BOO-crew skeletons will be back to perform at the BOO-tanical circus, along with human stilt walkers, jugglers, and hoop artists. Refreshments will be available for purchase.
Beardtoberfest Episode X: The Last Beard
October 15, 2022, at Dirtbag Ales Brewery & Taproom
Beardtoberfest is a facial hair competition that brings competitors and fans from around America. It is a fun-filled event with an entertaining competition aimed at camaraderie as well as philanthropy to better our local community. All funds raised are donated to The Karen Chandler Trust, a local nonprofit organization.
Zombie Walk & Prom
October 22, 2022, in downtown Fayetteville
The undead of Fayetteville are coming back to celebrate the 11th Annual Zombie Walk & Prom on Friday, October 22 from 6 pm-10 pm. This is a free, family-friendly event. Come to downtown Fayetteville in all your best zombie costumes.
November 5-13, 2022 County Wide
An eight-day celebration honoring service members and their families for the sacrifices they make. This is the 10th anniversary of the state's largest Veteran's Day celebration.