AIRPORT INFORMATION
Airlines
Fayetteville Regional Airport is served by American Airlines, Delta Connection and United Airlines. The airport offers frequent daily service to three airline hub airports, each with hundreds of destinations around the world. The airport is conveniently located between I-95 and the Crown Complex. The airport also offers amenities and services, such as, rental car services, hangar rentals, and taxicab services.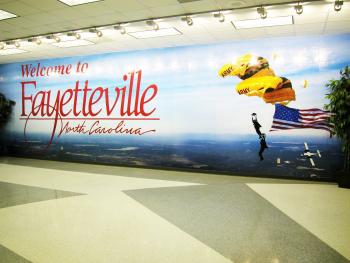 Fayetteville Regional Airport: 400 Airport Road, 8 minutes from downtown Fayetteville. (910) 433-1160
American Airlines: Daily flights to Charlotte Douglas International Airport. (800) 428-8322
Delta Airlines: Daily Flights to Atlanta International Airport. (800) 221-1212
United Airlines: Daily flights to Washington Dulles International Airport. (800) 428-4322
Airport Rental Cars
Avis Rent A Car: (910) 484-7985 or (800) 897-8448
Budget Rent-A-Car: (910) 484-1483 or (800) 527-0700
Dollar: (910) 829-9221 or (800) 800-3665
Enterprise: (910) 484-9023 or (800) 736-8222
Hertz: (910) 483-8808 or (800) 654-3131
Alamo/National: (910) 485-2133 or (800) 227-7368
Thrifty: (910) 829-9221 or (800) 847-4389
Airport Taxicab Association: (910) 237-1499
Randy's Taxi: (910) 416-9177
Field Base Operations (FBO)
Signature Flight Support Services (All American Aviation-Flight School/Aircraft Rental): (910) 321-7540
Powell Avionics: (910) 484-0236
Rogers Aircraft Maintenance: (910) 323-1245
TRAINS
Train Information
Amtrak:
472 Hay Street
Fayetteville, NC
(800) 872-7245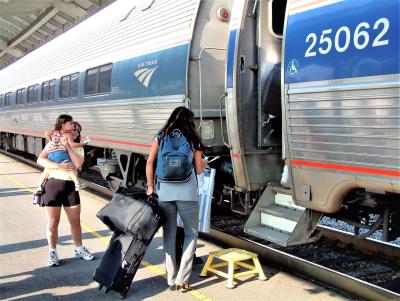 Four trains stop daily en-route between New York and Miami.
Southbound trains stop at 4:37 a.m. and 6:23 p.m.
Northbound trains stop at 10:14 a.m. and 11:50 p.m.
AUTO
Car Services
The AirPorter:
Local: (910) 822-3838
Toll-Free: (866) 618-8680
Direct Shuttle Service to and from Raleigh Durham Airport (RDU).
BUSES
Bus Information
Greyhound Bus Lines:
Located in the Fayetteville Transit Center
505 Franklin Street
Fayetteville NC 28301
Main Phone: (910) 483-2580
Tickets: (910) 483-2580
More than thirty buses to all points stop in Fayetteville daily.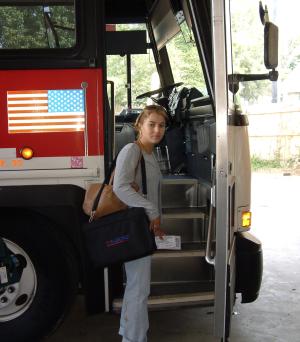 Fayetteville Area System of Transit (FAST):
505 Franklin Street
Fayetteville, NC 20301
(910) 433-1747
Offers 12 routes within the urban area and Hope Mills.
Adult Fare: $1.25, Children under 36" ride for Free, One Day Pass: $3.00 (good for unlimited trips in a 24 hour period), Discount Fare: $.50 (must have a FAST Photo ID). Discount Fares are available for those persons age 65 and older, or for persons with a qualifying disability.
Megabus:
The Megabus stop for arrivals and departures is located at the new FAST Transit Center, 505 Franklin Street. The bus stop itself is at the Russell Street Side of the Transit Center. Car pick up and drop off is only allowed on the Franklin Street location. Megabus provides transportation to Atlanta, GA, Columbia, SC, Durham, NC, New York, NY, Philadelphia, PA, Richmond, VA and Washington D.C.
Reservation Website: www.megabus.com
Personalized Tours and Transportation Services, LLC.:
(910) 703-7472
Offers charter bus service with several different sized buses and a variety of amenities.
Available to rent for a few hours, or a few days. 

Your Tours Unlimited:
(910) 822-3252
Proudly serving the traveling public since 1996. Join us for a customized 1 day excursion or multiple days excursions. You can also design your own and let us take you there!  
"Tourism has grown into one of the state's largest industries. Annually, over 45 million people visit North Carolina and generate more than $15.6 billion. Tourism directly employs over 182,900 North Carolinians with a payroll of almost $3.98 billion." --www.nccommerce.com