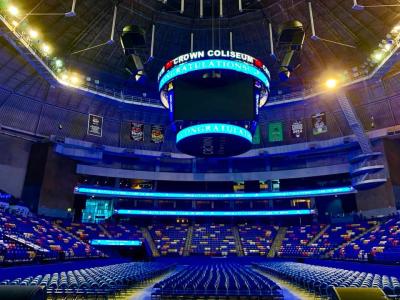 Hours of Operation: Standard hours of operation for the Business Office are 9 a.m. until 5 p.m. and Box Office Hours are 10 a.m. to 6 p.m. Monday through Friday and 10 p.m. to 4 p.m. on Saturday. Special Business and Box Office hours are observed during on-sale-dates, peak ticketing periods and show dates.
Box Office: The Crown Complex makes available to all lessees a full-service Box Office. This service is available on both percentage rental and flat fee rental agreements.
Ticketing Services: Ticketing services for the Crown Complex are provided through Paciolan ticketing services at 888-257-6208. For a complete list of outlets or additional ticketing information and related charges, contact the Box Office at (910) 438-4146.
Marketing and Public Relations: The Crown Complex's in-house marketing staff offers full-service event marketing, including media buying, promotion, publicity, group sales, and sponsorship sales. Call the Crown Complex Marketing Department at (910) 438-4121 for additional information.
Food and Beverage Service: Food and beverage service for the Crown Complex is provided by Spectra Food Services & Hospitality. This includes catering, concessions, temporary food vendors, novelty sales and operations and alcoholic beverages. Any questions regarding these items should be directed to the following:
General Manager: Jason Marsh
Spectra Food Services & Hospitality
121 East Mountain Drive
Fayetteville, NC 28306
(910) 223-9755
Contact Information: For further information on renting any of the Crown Complex facilities:
Call the Crown Complex at (910) 438-4100
Visit: Crowncomplexnc.com
Write:1960 Coliseum Drive
Fayetteville, NC 28306
Booking/Sales Manager: Carolyn Swait
Carolyn.Swait@spectraxp.com
(910) 438-4120