Quintessential Fayetteville
By Jason Frye
It can take a while before you get to know the heart of a place, but here in Fayetteville, we wear our hearts on our sleeves. We're proud of our town, our history, our people and our future. That's why it's just about impossible to visit with us for more than an hour without bumping into the real Fayetteville.
As a community with a deep patriotic streak, an authentic Fayetteville experience means dining in veteran-owned restaurants and sipping beer made by a brewer with more medals to display than what their bottles have earned.
Meeting the real Fayetteville means, "Welcome, what brings you in today?", is more than polite conversation; it's hometown friendliness and Southern hospitality, two hallmarks of America's Hometown.
Discovering the genuine Fayetteville means seeing our Colonial roots, recognizing our international influences, and coming face-to-face with the wonder of the great outdoors.
But to have a truly "Quintessential Fayetteville" experience, you'll combine all of these, mix them together and go in for a bite that brings all of Fayetteville's flavors together.
To help you out, we've thought long and hard about the experiences, places, and people that are the heart of our community and the heart of America's Hometown—the "Quintessential Fayetteville." Come visit, see for yourself, experience Fayetteville's finest and get to know one of your new favorite places.


Downtown Fayetteville from the Market House
---
Patriotism's Deep Roots
The Cape Fear River flows past Fayetteville's front door, and it was this river that carried our first European settlers–Scots who arrived in 1739–to the fields and farmland in Cumberland County and what would become Fayetteville. As the 1700s wore on, the county and communities here grew like any other until 1775, when a line between British Loyalists and independence-minded Patriots was drawn in the sand. The Liberty Point Resolves pledged local support for the Revolutionary War, planting the seed of American patriotism deep in our soil.
The Airborne and Special Operations Museum is dear to the heart of Fayetteville because some of the most elite soldiers the U.S. Army produces—our Airborne and Special Operations–are trained and housed right here at Fort Bragg. This museum details their history and heroics and, importantly, is staffed with a brigade of veterans who volunteer their time, offering candid glimpses into the exhibits, displays and stories told in the museum. A conversation with one of these veterans might take you to the mountains of Afghanistan in the Global War on Terror or the dark skies above France with the first generation of Airborne soldiers.
But veterans make up more than just the volunteer force at the Airborne and Special Operations Museum; they live in our community and own businesses here. Visit our breweries, which were all veteran-founded, and you'll find beer styles and flavor influences from all over the world. Dirtbag Ales Brewery & Taproom, Bright Light Brewing Company, Gaston Brewing Company and Huske Hardware House still claim veteran owners or brewers (or both), and sometimes it's hard to tell what they're more proud of—their service to the nation or the most recent beer on draft. Their determination and spirit, their support of every member of our community (but especially our veterans), and their pursuit of the perfect pint keep them busy and make them a focal point for our culinary scene.
---
International Influence on the Plate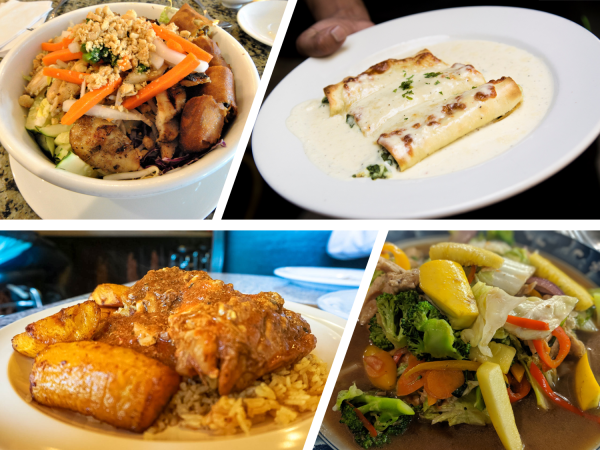 Our military men and women have served all around the world, and their travels and experiences abroad have influenced our community, this time on the plate. Look around Fayetteville, and you'll find restaurants from all over the world. Vietnamese restaurants, like Grilled Ginger and Vietnamese Kitchen, deliver a taste of Saigon in every banh mi and a bite of Hanoi in every bowl of pho. German restaurants, like Das Bavarian Haus and Max and Moritz Bakery and Restaurant, deliver a taste of continental Europe–and the eye-opening differences in regional German cuisine–with each bite. Then there are Thai restaurants and Indian spots, Mexican and Latin-American restaurants, restaurants devoted to Egyptian and Mediterranean cuisine. And more. The International Cuisine Trail has three dozen stops, each one displaying a tasty bite of Fayetteville's international influence, from ethnic restaurants to barbecue joints, where a taste of Korea, a bit of Jamaican spice, or the Gullah flavors of western Africa show up in sauces, rubs and sides. Fayetteville's a town that loves to eat, eat well, and eat dishes from around the globe; it's part of our history, it's part of our heritage, and it's part of our future.
---
The Fayetteville Experience
Getting the whole Fayetteville experience means taking a look at our Colonial past, our patriotic roots, and the tasty dishes we serve. But it also means playtime. We love the outdoors here, and we have plenty of places to play.
The Cape Fear and Little Rivers, which you can drift, float, kayak, fish or power-boat on, thanks to outfitters like Spring Lake Outpost (veteran-owned) and Deep Creek Outfitters, helped shape our communities in the past, and they influence how we spend our free time today.
At Cape Fear Botanical Garden, you can see impeccably arranged garden plantings, but also native forests, observing both how the land takes care of itself and how the vision of Fayetteville's botanists can transform it into something gorgeous. Trails here wander through gardens and open grassy areas, then plunge into the woods to carry you along the bank of the Cape Fear River, through the floodplains and forests, and back to the start, giving you a full-circle experience of nature here.
That's not enough, though. The trails at Carvers Creek State Park, the ziplines and views of Carver's Creek Falls at ZipQuest Waterfall and Treetop Adventure, and the spring-fed swimming hole at Lake Pines Swim Club are all part of getting in touch with Fayetteville's wild side.
---
Slow Down and Enjoy the Day
Sure, we play hard outdoors. We get our adrenaline pumping with ziplines, paintball wars in the woods at Black Ops Paintball, time indoors at the trampoline parks, at Battle House Laser Tag, indoor skydiving at Paraclete XP Skyventure, and at Fascinate-U Children's Museum, but we slow things down, too. Take your time. Notice the world around.
Strolling the Cape Fear River Trail, part of the East Coast Greenway, gives us time to reflect on our days, get that fresh air and sunshine we crave, and observe nature as we walk. Cross Creek Linear Park, the All-American Trail bordering Fort Bragg, and the Golfview Greenway Walking Trail give us plenty of places to observe the world and take a breather.
What's your idea of relaxing? Fishing? Folks in Fayetteville drop a line in the river and at more than 30 ponds and lakes around. A spa day? Come see the massage therapists who call Fayetteville home; they'll have you loose and ready for the world again in no time. Does a little retail therapy do the trick for you? From locally-owned boutiques to internationally known brands, you can take your time doing what many of us do: window shopping until the temptation is too much.
And that's the thing. In Fayetteville, the temptation is too much. The beauty of our landscape and the freedom it offered was too much for the early colonists, so they fought for their freedom and won it, taking ownership of this corner of the world. Our service members found their time here too tempting, so when it was time to transition into civilian life, they did it here in Fayetteville. Our residents—young and old, transplant and native—all found the call of Fayetteville too tempting, and they call it home.
You'll find Fayetteville tempting, too, when you spend some time here and get a feel for our community. You'll be tempted to come back and play more, explore more, and taste more of Fayetteville. And you're welcome any time. We're America's Hometown, so coming here feels like arriving home, and that's a tempting prospect indeed.
Join Our Email List
Sign up for our emails to get the latest news, personalized trip ideas, and special offers that fit your interests!