THE HISTORY OF SPORTS IN CUMBERLAND COUNTY
By Sammy Batten, Fayetteville Observer
When it comes to the world of sports, Fayetteville and Cumberland County have been home to pioneers, the birthplace of world champions, and a place where legends are made.
Ruth is one of the iconic figures in sports history, but he was a naive 19-year-old known as George Herman Ruth when he arrived in Fayetteville during February of 1914. He'd been signed to a professional baseball contract by the Baltimore Orioles, then a minor-league team, and had come South on the first train ride of his life with the team for spring training. Local businessman Hyman Fleishman had persuaded the Orioles to conduct part of their pre-season preparations in Fayetteville.

Manager Jack Dunn, who agreed to be Ruth's guardian, divided the team into two squads for an exhibition game at the old Fair Grounds on March 7. In his second time at bat, Ruth launched a home run to right field that landed some 350 to 400 feet away. It is acknowledged as the first professional home run hit by Ruth, who went on to crack 714 round-trippers as a major leaguer.

A state historic marker at Gillespie Street and Southern Avenue stands in honor of Fayetteville's connection to Ruth's career.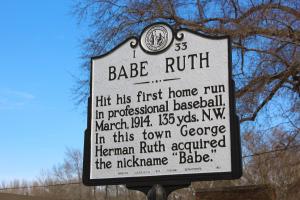 "We think of it as his announcement to the world of pro baseball that he was there and ready,'' said Michael Gibbons, director emeritus and historian of the Babe Ruth Birthplace and Museum in Baltimore. "Boom! Off it went. What a way to get going. Only Babe Ruth could have done that. It's a great story.''

The connection between Ruth and Fayetteville didn't end there, however. Ruth also received his nickname "Babe'' while in town. Whether it was a sportswriter covering the team, or teammates who noticed the special attention paid by manager Dunn, Ruth was eventually referred to as "Jack Dunn's Baby,'' or "Dunnie's Babe.'' By the end of the Orioles' stay in Fayetteville, Baltimore newspapers were using then name Babe Ruth in their reports.

Twenty-one years later, Ruth returned to Fayetteville as a 40-year-old legend nearing the end of his career. Traded by the New York Yankees in February 1935 to the Boston Braves, he came to town for an exhibition game against N.C. State's college team on April 5. A crowd estimated at 6,700 by The Fayetteville Observer jammed into old Highland Park to see Ruth walk twice, strikeout once and hit into a double play. Ruth would sign autographs afterward at the Prince Charles Hotel downtown while the Braves waited for a train to Norfolk, Virginia. Two months later, Ruth retired.

Four years before Ruth's initial visit to Fayetteville, another American sports legend spent part of his summer in Fayetteville playing minor league baseball.

Jim Thorpe, a future Olympic champion and Pro Football Hall of Famer, was traded to the Fayetteville Highlanders, a Class D Eastern League franchise, at midseason in 1910. Thorpe hit .250 in 16 games while helping the Highlanders win the league championship.

Two summers later in Stockholm, Sweeden, Thorpe claimed Olympic gold medals in the decathlon and pentathlon, earning status as a national hero. But controversy tied to his days in Fayetteville cost Thorpe his Olympic medals a year later. Professional athletes weren't allowed to compete in the Olympics during those days, and since he'd accepted payment for playing baseball here and in Rocky Mount during the 1909-1910 seasons, Thorpe was stripped of his medals. It wasn't until 1983, 29 years after his death, that the International Olympic Committee restored Thorpe's medals.

FROM LEGENDS TO PIONEERS

Jimmy Raye II was a fabulous quarterback at then-segregated E.E. Smith High School in the 1960s and more than good enough to play for any number of major-college programs.

But major colleges in the racially charged 60s, especially those in the South, recruited few if any African American players. And none would think of signing an African American to play quarterback.
But Michigan State coach Duffy Daugherty bucked that trend when he began recruiting African American players from the South to East Lansing, Mich. Raye became part of that migration North along with future College Football Hall of Famers such as Bubba Smith, George Webster, and Gene Washington.

As a junior in 1966, Raye became Michigan State's first black starting quarterback and the first black player from the South to win a national championship. Raye, who went on to a successful career as an NFL coach and administrator, has his ground-breaking story documented in a book, "Raye Of Light,'' written by Tom Shanahan.

HOME OF CHAMPIONS

You need more than two hands to count the number of Fayetteville athletes who have played for world or national championship teams.

Hope Mills' Calvin Koonce holds the distinction of being the only Cumberland County native to have played for a World Series champion. Koonce was a right-handed relief pitcher in 1969 for the New York Mets, who had never finished above ninth place in the National League standings since formation in 1962.
But in '69, the "Miracle Mets'' won 100 regular-season games and beat the heavily favored Baltimore Orioles in the World Series. Koonce made a significant contribution for the world champs, winning six games and notching seven saves during the regular season. He didn't pitch in the World Series due to the strong efforts of New York's starting staff, which needed less than six innings of relief help in five games.
Six Fayetteville high school graduates have earned Super Bowl championship rings, led by Seventy-First's Harry Sydney. Sydney was a backup fullback and special teams player for the San Francisco 49ers, who won back-to-back world titles in Super Bowl XXIII and Super Bowl XXIV. He would add a third Super Bowl ring to his collection in January 1997 while serving as running backs coach with the Green Bay Packers.
Other Super Bowl champions from Fayetteville include:
Terry Sanford's Dwayne Allen, a reserve tight end for the New England Patriots in Super Bowl LIII.
Douglas Byrd's Brad Edwards made two interceptions and four tackles as the starting safety in Super Bowl XXVI for the Washington Redskins.
Pine Forest's Jeff McCall, a running back who was on the inactive list for Super Bowl XVIII with the Oakland Raiders.
Terry Sanford defensive back Tim Morrison, who was on the inactive list for the Washington Redskins for Super Bowl XXII.
E.E. Smith's defensive end Russell Davis was on the inactive list for Super Bowl XLII with the New York Giants.
Fayetteville athletes have also been part of national championship college teams, in addition to the aforementioned Jimmy Raye II at Michigan State.

Terry Sanford graduate Shea Ralph helped Connecticut claim the NCAA women's basketball title as a senior in 2000. Ralph served as the Huskies' team captain and was named the Most Outstanding Player in the Final Four. Since completing her playing career, Ralph has become one of college basketball's top assistant coaches at her alma mater.

Jack Britt's Sean MacLain was a walk-on receiver with the 2017 Clemson football squad that defeated Alabama for the national championship, while Gray's Creek's Steven Sawicki was a walk-on kicker for the Tigers during their run to the national crown in 2018. Seventy-First's Marvin Powell played offensive line on a Southern Cal team that claimed the crown in 1974.

FIRST-ROUNDERS

There have been literally dozens of Fayetteville athletes drafted by major professional sports leagues through the years. But only a handful have been first-round selections. They include:
Aaron Curry, LB (E.E. Smith/Wake Forest), who was taken fourth overall in the 2009 NFL Draft by the Seattle Seahawks
Eric Maynor, G (Westover/Virginia Commonwealth), who was taken 20th overall in the 2009 NBA Draft by the Utah Jazz.
Marvin Powell, OL (Seventy-First/Southern Cal), who was taken fourth overall in the 1977 NFL Draft by the New York Jets.
Dennis Smith Jr., PG (Trinity Christian/N.C. State) , who was taken ninth overall in the 2017 NBA Draft by the Dallas Mavericks.
Dimitrius Underwood, DE (E.E. Smith/Michigan State), who was taken 29th overall in the 1999 NFL Draft by the Minnesota Vikings.
Doug Wilkerson, OL (E.E. Smith/N.C. Central), who was taken 14th overall in the 1970 NFL Draft by the Houston Oilers.
Donnell Woolford, CB (Douglas Byrd/Clemson), who was taken 18th overall in the 1981 NFL Draft by the Chicago Bears.
MASTERS OF THE FAIRWAY

The golf mecca of Pinehurst, where numerous U.S. Open and U.S. Amateur champions have been crowned, is only about an hour-and-15 minutes away. But Fayetteville can claim its own special links to the sport.

Raymond Floyd was born at Fort Bragg and developed his game under the tutelage of his father, respected golf teacher L.B. Floyd. After graduating from old Fayetteville High School and spending a semester at the University of North Carolina, Floyd turned professional and quickly established himself by winning his first PGA Tour event at age 20.

Floyd would go on to capture 22 PGA victories, including four majors, the first of those occurring at the 1969 PGA Championship. But his most memorable triumphs came in 1976 when he earned the prestigious title at The Masters and claimed the U.S. Open championship in 1986. Those achievements and others earned Floyd a spot in the World Golf Hall of Fame in 1989.

Following in Floyd's footsteps into the world of professional golf were his younger sister, Marlene, and another Fayetteville native, Chip Beck.

Marlene Floyd joined the LPGA Tour in 1976, produced three third-place finishes and more than $300,000 in earnings during a career that continued into the early 1990s.
Beck won four PGA Tour events and had 20 runner-up finishes during a career that spanned 1978 to 2015. The Terry Sanford High School graduate tied for second place in the 1986 and 1989 U.S. Open Championships and was runner-up to Bernhard Langer in the 1993 Masters tournament. Beck played on three U.S. Ryder Cup teams and his round of 59 in 1991 at the Las Vegas Invitational marked only the second time in history a PGA player had produced a score that low at the time.

IT'S A TEAM GAME

Professional sports teams have called Fayetteville home since the turn of the century when the Fayetteville Highlanders minor league baseball team was established. The Highlanders won the 1910 Class D Eastern League title and captured Carolina League crowns in 1954 and 1956 before going dormant.

Thirty years later, minor league baseball returned to Fayetteville in the form of the Fayetteville Generals, a Detroit Tigers affiliate, that played in the Class A South Atlantic League. Later renamed the Cape Fear Crocs and affiliated with the Montreal Expos, the franchise existed through the 2000 season before relocating to Lakewood, N.J.

Years of efforts to bring minor league baseball back to Fayetteville finally came to fruition in 2019 when the Fayetteville Woodpeckers made their debut as an Advanced-A Carolina League affiliate of the Houston Astros. The Woodpeckers play their home games in the spectacular new, $40-million Segra Stadium located in the heart of Fayetteville's downtown.

But baseball isn't the only professional sport to field franchises in Fayetteville. The Fayetteville FireAntz, now the Fayetteville Marksmen, won the Southern Professional Hockey League's President's Cup in 2006-2007. The city was home to one of the original NBA G League minor league franchises, the Fayetteville Patriots, in 2001-2002, and the city has fielded an arena football team in various leagues since 2002.

MOVERS & SHAKERS
Many former Fayetteville athletes have now become movers and shakers in the sports world.

Ex-South View basketball star Jeff Capel III is the head men's coach in the Atlantic Coast Conference at the University of Pittsburgh, while Jack Britt grad Eric MacLain is part of the inaugural class of on-air talent for the new ACC TV Network.

Although she's not a Fayetteville native, long-time resident Amy Perko has served as chief executive officer for the influential Knight Commission on Intercollegiate Athletics since 2005. The commission was formed in 1989 to promote reform in college athletics.

Former Pine Forest basketball player Matthew Jarmond became the youngest athletic director at a Power Five conference school in 2017 when he was hired by Boston College. Just South of Jarmond in Fairfax, Va., Douglas Byrd graduate and Super Bowl champion Brad Edwards serves as athletic director at George Mason University.

OH, YES, WE'RE IN THE MOVIES

Fayetteville's sports history is also linked to at least two highly successful movies.

The Fayetteville Generals uniforms and J.P. Riddle Stadium can be seen in scenes of the classic 1988 baseball film, "Bull Durham.'' Sports Illustrated ranked the fictitious film about Durham's minor-league team as the No. 1 Greatest Sports Movie of All Time.

Bull Durham featured actor Kevin Costner in the lead role. Costner would add another link to Fayetteville in another of his highly successful movies, "Field of Dreams,'' in 1989. The film focuses in part on the baseball career of Archibald "Moonlight'' Graham, who played one game for the New York Giants in 1922 but never got an at-bat.

Although the movie was a work of fiction, Graham was an actual person born in Fayetteville in 1876. His brother, Frank Porter Graham, would go on to become president of the University of North Carolina. Archibald Graham would go on to play several years in the minor leagues and appeared in one major league game as an outfielder with the Giants in 1905 before embarking on a career as a doctor.

Former Fayetteville Observer sportswriter Brett Friedlander and UNC Pembroke professor Robert W. Reising penned a biography on Graham called "Chasing Moonlight: The True Story of Field of Dreams' Doc Graham,'' in April 2009.
So from legends to pioneers to champions and beyond,
Fayetteville's sports history runs deep and current.
Join Our Email List
Sign up for our emails to get the latest news, personalized trip ideas, and special offers that fit your interests!